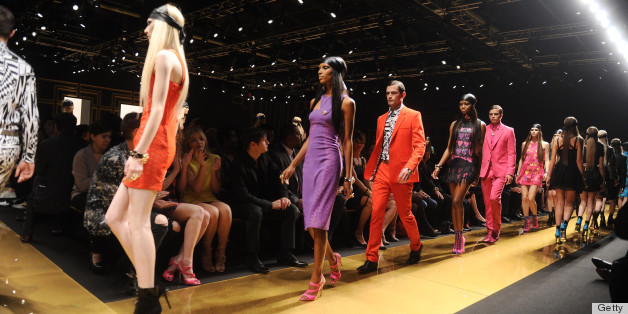 While H&M might seem similar to all the other fast fashion retailers out there, the company is making major strides to break out of its big box mold. First on the agenda: championing body diversity.
A month after H&M made headlines for featuring a plus-size swimsuit model the same way they would any other model, CEO Karl-Johan Persson has pledged that the brand is "working on...[showing] diversity in our advertising and not [giving] people the impression that girls have to look a particular way." Bravo! H&M's head honcho told Metro:
"We have a huge responsibility here. We're a large company, many people see us, and we advertise a lot. I don't think we've always been good. Some of the models we've had have been too skinny."
We applaud Persson for accepting responsibility for a standard that's been set industry-wide -- and for attempting to progress in a healthier direction. "By and large, I think we've succeeded," he says, of H&M's efforts to depict body diversity from its broad platform. "We've many different kinds of models from different ethnic backgrounds. In our last campaign we had a somewhat more buxom model, and now we're having Beyoncé, who's a bit curvier as well."
Perhaps Persson is alluding to "The New Icons" collection the brand unveiled in March, which was inspired by more exotic models like Liu Wen and Joan Smalls. And even that aforementioned curvaceous pop star is somewhat of an edgy choice, as the ads she's featured in are radical enough to irk conservatives in public spaces.
"I say, healthy model, always!" Persson pledges. "We can get more disciplined, because sometimes there have been mistakes."
Read the rest of the interview over at Metro to learn about Persson's concerns regarding factory labor and other social issues. What other fashion companies could use an agenda makeover?
We'd like to see more ladies like these in H&M advertisements:
PHOTO GALLERY
Women Who Defy Conventional Body Types In Hollywood
Want more? Be sure to check out HuffPost Style on Twitter, Facebook, Tumblr, Pinterest and Instagram at @HuffPostStyle.