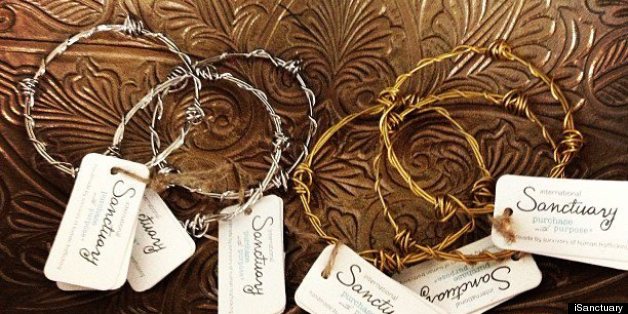 Their business partnership began on a bus ride in India more than 12 years ago. Stephanie Pollaro and Wendy Dailey, both from Orange County on a church mission, struck up a conversation about Pollaro's plans to move overseas to help women and girls trapped in lives of prostitution.
They kept in touch, and the women decided in 2007 to launch iSanctuary, an Irvine-based venture that sells jewelry and coasters made by victims of human trafficking. The nonprofit also provides employment to women and girls who have been rescued from slavery and prostitution in India.
"I learned about (human) trafficking and I thought, 'What am I going to do to help out?'" Pollaro said.
Shannon Keith also was moved to act after her own trip to India in 2005. "I was exposed to the issue of human trafficking and forced prostitution and knew about the very hard barriers that women in the culture have with the caste system," Keith said.
Keith established the Costa Mesa-based International Princess Project, which runs Punjammies.com, an e-commerce site that sells pajamas made by women in India.
iSanctuary and International Princess Project are among local organizations that use small-scale manufacturing and retailing to cater to a growing consumer interest in cause-related products in the United States and abroad.
"Shopping with a conscience persists as a global mind-set," according to a report released Wednesday on corporate social responsibility by Echo Research and Cone Communications. In the survey of 10,287 consumers in 10 countries, 92 percent said they would buy a product with a social or environmental benefit, and 67 percent said they have done so in the past 12 months.
Human rights is among those causes.
For iSanctuary and the International Princess Project, raising consumer awareness about human trafficking can begin with a piece of jewelry or a pair of pants purchased online.
iSANCTUARY
Pollaro and Dailey decided that the best way they could help was to create a sustainable enterprise -- one that creates opportunities for women to use handcrafting skills to earn a living. iSanctuary's goal is to help women reintegrate into society and support themselves.
Jewelry was a natural choice because it blended Pollaro's hobby -- jewelry making -- with the handcrafting skills of the women in India.
Pollaro said she and Dailey wanted to design and showcase stylish clothing, jewelry and coasters that people would buy for the product's aesthetic merits. "We didn't want to them to be a 'pity purchase' -- things that people buy for the cause but would not want to wear or use," Pollaro said.
Dailey said they wanted to make the products affordable and also attractive -- comparable in style to trunk-show jewelry sold by Silpada Designs and Stella & Dot. An iSanctuary bib necklace with teardrop green beads looks like something you might find at Neiman Marcus or Nordstrom. Each piece of jewelry comes with a tag that is signed by the woman who made it. The items are priced from $15 to $40.
Pollaro, a former career counselor from Fountain Valley, and Dailey, who taught school in Orange, have partnered with organizations in India that rescue and shelter women. Dailey said the nonprofit pays the workers wages that enable them to be self-supporting.
Pollaro now lives part of the year in India so she can train the women to make the jewelry and oversee the nonprofit's operations there, while Dailey works primarily in the Irvine headquarters. In India, the women make jewelry and coasters at an iSanctuary center in Mumbai.
Helping women in India is half of the picture. iSanctuary's owners also help human trafficking victims now living in the United States and work with the Salvation Army's Network of Emergency Trafficking Services, California Against Slavery and the Orange County Human Trafficking Task Force to provide job training to the women.
"Most of the women who are rescued don't have a great resume or education," said Linh Tran, the county task force administrator. "iSanctuary helps out with that with on-the-job training and partial employment. It was a small program in the beginning, but it's grown."
In Irvine, the women handle online and retail orders, manage inventory, and ship and receive goods during nine to 12 months of training. The experience helps them find work, perhaps even think about starting their own businesses, Dailey said. Eight women have completed job training at iSanctuary.
The organization is funded through the sales of jewelry and coasters made by women in India, as well as grants and donations. In 2008, iSanctuary had $25,000 in sales, which grew to $250,000 in 2012, according to Dailey.
Pollaro and Dailey are looking to expand their international reach and partner with organizations that help victims of human trafficking in the Philippines.
INTERNATIONAL PRINCESS PROJECT
After Shannon Keith's first trip to India with her husband as part of church outreach efforts, she could not forget what she saw: children who were sold by their families into brothels, women selling their bodies to feed their families. Keith wanted to do something to stop the cycle.
She thought of pajamas because she could get vibrant-looking cotton from mills in India and the pattern for PJs was straight and uncomplicated, making it simpler for the rescued women to sew. Her inspiration came from the sari, the traditional Indian garb. She said she named the nonprofit International Princess Project because the bold colors and beautiful patterns of the sari are fit for royalty.
Partnering with rescue organizations, Keith and her team set up three sewing centers in India to create pajama bottoms, which she named Punjammies.
The first year the woman made 300 pairs of pajama pants, she said. Seven years later, the nonprofit produces an annual 20,000 sets -- which include pajama bottoms and tops.
The clothing collection has grown to include capris and shorts, as well as tanks, T-shirts and hoodies, plus a limited edition of cotton bottoms that are printed by hand using organic dyes and traditional Indian kalamkari wood blocks. This year, the company added towels because customers said they often wear the PJs outside of the house and to the beach, Keith said.
The sewing centers are staffed by 155 women who use their earnings to support themselves and their 250 or so children. Online sales support the Costa Mesa organization, which also received money from grants, donations and proceeds from an annual fundraising gala.
"Our largest challenge is to find really good quality fabric and have consistent fabric sourcing in India," Keith said. "Our goal is to one day do the Punjammies from soup to nuts."
Keith said sales have doubled year after year. "We're poised to hit $1 million in sales this year," she said.
Unlike other apparel businesses, the sewing centers are operated with the women's health and welfare as the top priority, Keith said.
"People have to keep in mind that we have a highly traumatized workforce," she said. "They come to us with low skills. If their sewing isn't that great, we're not going to fire them. We're going to find something else for them to do."
BEFORE YOU GO
PHOTO GALLERY
The Faces Of Sex Trafficking