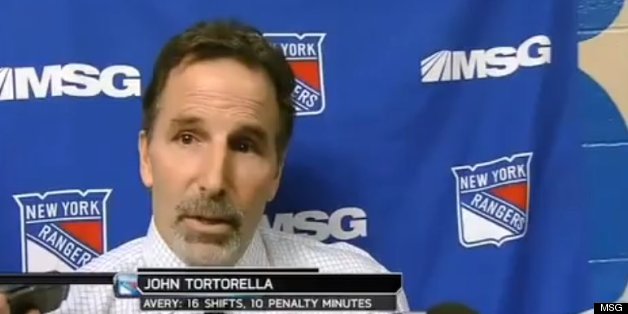 Press conferences in the NHL got a bit less interesting on Wednesday.
Four days removed from a season-ending loss to the Boston Bruins in the 2013 Stanley Cup Playoffs, the New York Rangers fired combative head coach John Tortorella. The fiery coach began his stint with the Blue Shirts in February 2009 and led the team to the Eastern Conference Finals in 2012 and the second round of the NHL Playoffs in 2013.
From his first day and almost through his last, Torts made an art of the awkward press conference. Whether he was inquiring if a specific reporter had ever been in a fight or simply leaving the entire press corps with empty notebooks after a near-silent thirty seconds of availability, Tortorella could make postgame exchanges as a contentious as anything on the ice.
Here are a dozen classic Tortorella press conferences. Be warned, there is profanity.
PHOTO GALLERY
Torts Most Contentious Moments As Rangers Coach
Tortorella posted a 171-118-1-29 regular-season record with the Rangers and is the fourth-winningest coach in team history, according to NHL.com. Despite all the regular-season success, the Rangers were just 19-25 in the postseason under Tortorella.
"I felt this was a decision that had to be made going forward," Rangers general manager Glenn Sather said, via CBS New York. "I think he was shocked, but he is a gentleman and he took it very well."