Kerry Washington is one of the few actresses killing it on the big screen ("Django Unchained" and "Peeples"), the small screen ("Scandal") and the red carpet -- at the same damn time.
So it's no surprise that the 36-year-old beauty finally scored her first major fashion magazine cover with Elle this month. Now, she's gracing the cover of The Hollywood Reporter's "The Hot Drama Queens" issue.
Kerry already got the THR treatment earlier this year when she and her stylist, Erin Walsh, were praised for continuously creating best-dressed-worthy looks. This time around Kerry is joined on the cover with fellow TV "Drama Queens" Kate Mara of "House of Cards," Anna Gunn of "Breaking Bad," Connie Britton of "Nashville," Elisabeth Moss of "Mad Men" and Monica Potter from "Parenthood," all dressed in spring's hottest trend -- high contrast black-and-white ensembles.
SCROLL DOWN FOR PHOTO
In the issue, Kerry opens up about working as a substitute teacher in New York City before stardom, experiencing backlash (which included death threats) after speaking at the Democratic National Convention, learning to embrace social media and auditioning for roles where her skin color can at times hinder the process.
"It's a little bit different for me because I'll audition for something and they'll just decide that they're not going "ethnic" with a character, which I hear a lot," Kerry told THR.
She goes on to say, "people have artistic license … that's what casting is: fitting the right look to the right character. Whereas you could maybe lose some weight, there's not really anything I can do, nor would I want to, about being black."
Check out a video from the shoot and read the entire THR interview here.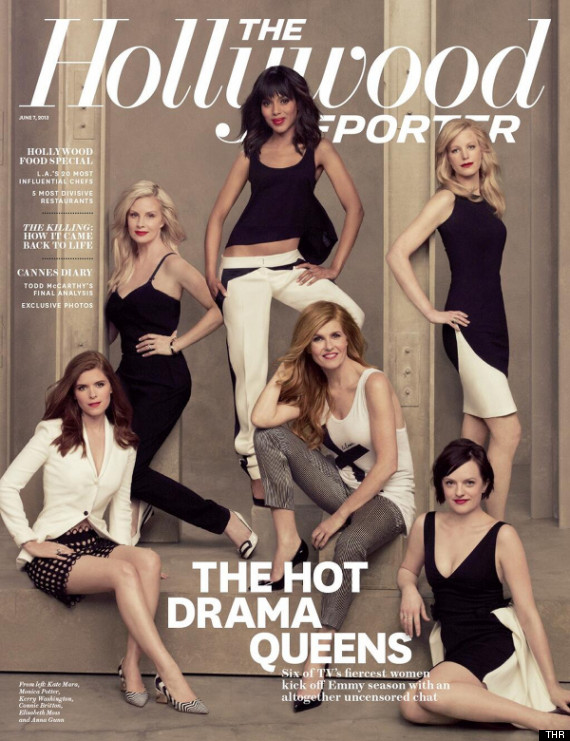 BEFORE YOU GO
PHOTO GALLERY
Our Favorite Kerry Washington Style Moments