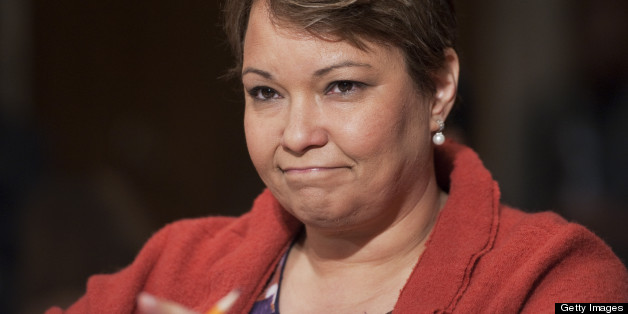 Former Environmental Protection Agency Administrator Lisa Jackson will be joining Apple, CEO Tim Cook announced Tuesday. The news came at All Things Digital's D11 conference in Southern Calif.
Jackson will coordinate environmental practices for the company, All Things D reported. "Apple has shown how innovation can drive real progress by removing toxics from its products, incorporating renewable energy in its data center plans, and continually raising the bar for energy efficiency in the electronics industry," she told Politico in an email.
Apple's 2012 environmental report showed all of the company's data centers, and 75 percent of all facilities, were powered by renewable energy. Yet Apple's overall estimated greenhouse gas emissions rose 34 percent between 2011 and 2012. Apple explains 98 percent of its carbon footprint comes from "the manufacturing, transportation, use and recycling," of its products.
Politico notes the company left the U.S. Chamber of Commerce in 2009 after comments from the group "opposing the EPA's effort to limit greenhouse gases," according to Apple's resignation letter.
Jackson stepped down from her role as EPA chief in February, after serving for four years. Her replacement at the EPA, Gina McCarthy, is currently awaiting confirmation from the full Senate. McCarthy's nomination was approved by the Senate Environment and Public Works Committee on May 16 after an initial boycott from Republicans.
BEFORE YOU GO
PHOTO GALLERY
EPA 2011 Greenhouse Gas Data