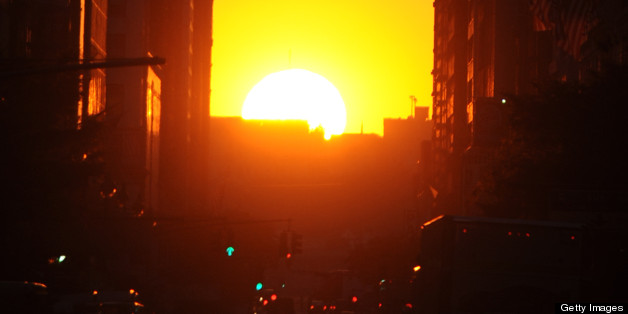 Rain may have spoiled Tuesday's Manhattanhenge, but here's to hoping that the clouds part just enough tonight for a full sun to align itself perfectly with New York City's street grid, making way for one of the world's prettiest urban phenomena.
(Isolated thunderstorms could mess everything up.)
Neil deGrasse Tyson, the founder and biggest champion of Manhattanhenge, released this year's schedule on the American Museum of Natural History website. A full sun will (weather pending) nestle itself between skyscrapers tonight at 8:15p.m.
If the rain ruins everything again, then we'll have to wait until later this summer, on July 12th and 13th.
Tyson offers advice for the best places to see Manhattanhenge:
"For best effect, position yourself as far east in Manhattan as possible. But ensure that when you look west across the avenues you can still see New Jersey. Clear cross streets include 14th, 23rd, 34th. 42nd, 57th, and several streets adjacent to them. The Empire State building and the Chrysler building render 34th street and 42nd streets especially striking vistas."
Never seen or heard of Manhattanhenge before? Check out some photos below to get an idea.
BEFORE YOU GO
PHOTO GALLERY
Manhattanhenge 2012