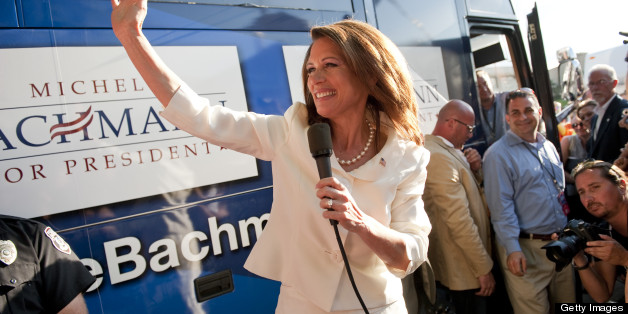 Did Michele Bachmann make the right decision to run for president in 2012? I'm not sure that "running for president in 2012" was a smart decision for anyone to make, frankly, what with all the bridges falling down and whatnot. But NBC's First Read sees Bachmann's decision as a cautionary tale:
A word of warning to anyone thinking about 2016: Running for president doesn't always help your political career. After unsuccessful presidential bids in '04 and '08, Rep. Dennis Kucinich (D-OH) later found himself without a congressional seat. After he finished sixth in the '08 Iowa caucuses -- after moving his family to the state -- Sen. Chris Dodd (D-CT) saw his popularity in his state plummet and decided not to run for re-election. And after briefly running for president in 2008, former Wisconsin Gov. Tommy Thompson (R) lost a Senate race four years later. And now you can add Rep. Michele Bachmann (R-MN), who like Dodd finished sixth in Iowa in 2012, to this list.
I'm pretty sure that's all wrong. Let's begin with the spare examples cited, a tiny list of politicians who found themselves falling on hard times sometime after they made presidential bids. As near as I can tell, none of them experienced a fallow period in their political careers as a consequence of having run for president.
Kucinich "found himself without a congressional seat" because his district was abolished in redistricting after the 2010 Census, and he was forced to run against another incumbent, Rep. Marcy Kaptur, in a Democratic primary in a district mainly composed of Kaptur's historical constituency. Chris Dodd's rough electoral sledding had much more to do with a plethora of post-financial crash controversies -- most notably his flip-flop on legislation that eventually "helped pave the way for AIG to pay controversial bonuses to its employees." Tommy Thompson was a presidential candidate for a hot minute in 2008, and he withdrew before the primaries. Four years later, he ran for the Senate and lost to Tammy Baldwin. I'm at a complete loss as to why his brief involvement in presidential politics doomed him.
Was Bachmann harmed by her presidential run? You can make the argument, because Bachmann is being driven into retirement by a "range of allegations related to Bachmann's failed presidential campaign, including charges that she improperly used campaign funds to promote her book, that her campaign 'launder[ed]' money, and that one of her staffers stole an email list from a home-school organization," as Salon's Alex Seitz-Wald reported. So, sure, she'd be in better shape if she'd not run for president, potentially, but I sort of think that the larger lesson here isn't so much "Think twice before running for president" as much as it is "Don't improperly use campaign funds or launder money or steal email lists."
In reality, however, Bachmann will be dining out on her brief presidential bid for a long time, because running for president is often enough to catapult a person into the political celebritysphere and open up access to new sources of income as a media personality. The speaking fees that Bachmann will be able to command alone make the presidential candidacy worth it.
Here's a bit of perspective, courtesy of the St. Paul Pioneer Press:
It would've cost big bucks to get Republican Tim Pawlenty to return to Ames, where his presidential campaign ended in 2011 after a poor finish at the Iowa Straw Poll.

Emails released by Iowa State University show its Harkin Institute of Public Policy wanted Pawlenty to come speak last month about Iowa's leadoff role in the presidential nominating process.

Pawlenty's agent told school officials his speaking fee was $25,000 plus expenses. Institute director Dave Peterson wrote that fee was "well beyond" what the institute could afford, but started asking others whether they could "cobble together enough" university funds from elsewhere.
If Tim Pawlenty, the guy whom Bachmann personally drove from the 2012 race, has been priced out of the cheap seats because of his terrible presidential bid, then Bachmann is going to be fine. If the campaign scandals from her 2012 bid are driving her out of the House of Representatives, then the rest of us will be fine, too.
Basically, Bachmann's decision to run for president was a win-win for everyone.
[Would you like to follow me on Twitter? Because why not?]
BEFORE YOU GO
PHOTO GALLERY
Unforgettable Bachmann Moments