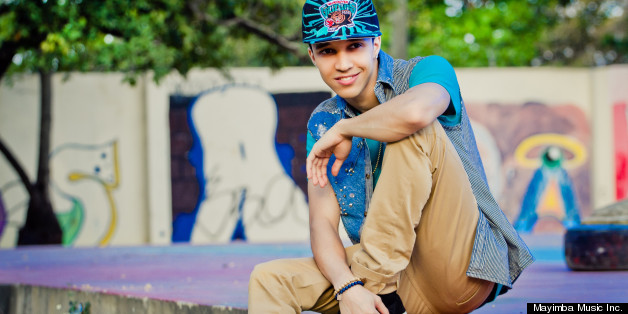 With his new single "Mi Favorita," which has already been a big hit on radio and even landed in the top 20 in Billboard's Tropical genre list, Renzo has already been dubbed the next Prince Royce. The more you listen to his catchy new tune the better it gets.
Born in Queens, New York and later moving to the Dominican Republic at the age of eight, Renzo has a musical influence that has allowed him to bring together two of his favorite genres: R&B and merengue. Renzo initially got into dancing through his idols, the great Michael Jackson and Usher. He would copy Michael with the hope of one day being a dancer like him, but at 12 years old he got into singing and thanks to his dad, realized the talent he had.
"About a year and a half ago I decided to focus on my music and make it my project," said the 22-year-old.
Here's my interview with the up-and-coming Latino artist:
Renzo talks about his idol and new hit 'Mi Favorita'
Q: I know you're a singer, writer, dancer, choreographer… how did you get into all of this and which one would you say is the one you are most passionate about?
A: I was always interested in dancing. Growing up watching Michael Jackson was a huge part of that. Now I'm just combining all my passions into one. You can definitely see it in the video since I add some dancing along to the song.
Q: Was there a moment where you realized music is what you wanted to stick to?
A: My dad would always tell me that I needed to sing because of my voice and I decided that maybe it was my moment. So I started writing, going to the studio, inventing ideas and from there came "Mi Favorita."
Q: Were you always convinced that you were going to stick to merengue or was there ever something else you were interested in?

A: I love R&B, Usher and Michael Jackson are my idols. I would always sing that but I have a huge merengue influence as well. My father loved it and would always listen to the great merengue singer Alex Bueno. I would dance to them and really enjoy it. I decided to fuse the pop and R&B genres with merengue.
Q: Your new single "Mi Favorita" has been doing really well, when will you release the album?
A: For right now were just focused on this single. We don't have a release date yet but we are putting together songs and producing a lot; deciding what songs are going on the album. We recently released the video for "Mi Favorita" which was filmed in the Dominican Republic. It's about a boy chasing after a girl, as always, and at the end he wins her over with a performance he dedicates to her, his "favorita."
Q: I have to ask, is there a 'favorita' (favorite) girl in your life right now?
A: My 'favorita' right now is my music. I am working really hard on this project and I'm completely focused on it in order to give people something good to hear.
"Mi Favorita" is now available on iTunes. Follow Renzo on Twitter and find out what's next for the young Dominicano!
Renzo's 'Mi Favorita' music video
Originally published on VOXXI as Renzo 'the next Prince Royce' mixes R&B, merengue in hit 'Mi Favorita'
BEFORE YOU GO
PHOTO GALLERY
Becky G Music