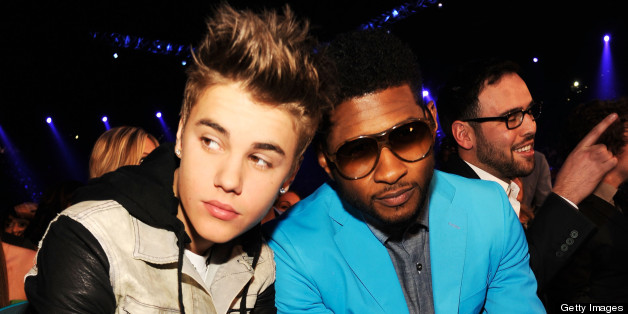 Usher has been with Justin Bieber from the beginning and he hopes the teenage superstar will continue to "mature" and get past the hurdles he's encountered.
The "Numb" singer sat down with Ellen DeGeneres on Tuesday and the subject of Bieber came up. Usher has been with The Biebs since 2008 when he and manager Scooter Braun discovered the Canadian hopeful. Fast forward five years and the 19-year-old is a multimillionaire who makes less headlines for his music and more for Twitter meltdowns, public booing, reckless driving and alleged marijuana use.
But make no mistake: Usher just sees Bieber as a normal young guy, who just so happens to live in the spotlight, and has some growing up to do.
"We hope that in his transition -- as friends and family who have helped him be who he is -- that he will continue to just mature," he said. "But in this day's age of social media there is no privacy. That kind of trial and elimination period is done in front of a camera. It's been done and many, many other celebrities have been a product of it. Some come out bad, some come out good. I'm hoping for the best."
"I don't look at it as a negative, though," the R&B star continued. "I look at it as a teenager. He is a teenager having to live his life in front of a camera. Imagine if you had to do that as a teenager ... You go through something to get to something in life. If there were no humps in life, there'd be nothing to get over."
The "Boyfriend" singer -- who is currently being investigated by the Los Angeles County Sheriff's Department for driving recklessly in his Ferrari through his gated Calabasas, Calif., community -- has spoken about his behavior before. In a March interview with Us Weekly, Bieber blamed the follies of youth for his indiscretions.
"I'm young and I make mistakes," he said, later adding that he doesn't think there is anything wrong with wanting to have fun. "That's part of growing up. I mess up sometimes. It's part of growing up."
"I know who I am and I'm not gonna let negativity towards me bring me down. I'm a positive person and I plan on staying that way. This business can break you down, but I have a strong team around me, and my family and all the fans. The love overcomes the negativity. I'm not perfect but I'm growing and trying to be better everyday. That's part of life."
Watch Usher discuss Justin Bieber with Ellen DeGeneres below:
BEFORE YOU GO
PHOTO GALLERY
Justin Bieber through the years