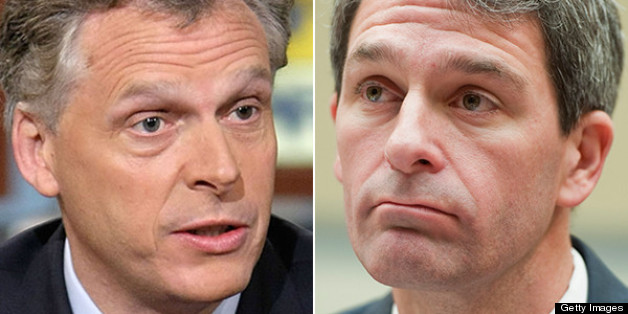 Most Virginia voters say they dislike both candidates for governor. Gallup is close to a settlement in its DOJ case. And making too much of a non-random sample of Politifact.org fact checks might earn you a "pants on fire" rating. This is the HuffPost Pollster update for Wednesday, May 29, 2013.
PPP FINDS SLIGHT MCAULIFFE LEAD IN VA - In the Virginia race for governor, the Democratic firm Public Policy Polling (PPP) finds Democrat Terry McAuliffe leading Republican Ken Cuccinelli by a 5 percentage point margin (42 to 37 percent): "As voters get to know the candidates better...more are becoming undecided. That's not the normal trend, but it's also not normal to have an election where voters dislike both candidates five months out. That's the case here. Terry McAuliffe is not popular, with 29% of voters holding a favorable opinion of him to 33% with a negative one. But we find that Ken Cuccinelli is even more unpopular, with 44% of voters rating him unfavorably to just 32% with a positive opinion...The bottom line on all of these Virginia races is that there's a long way to go. [PPP]
Polls point in both directions - The PPP vote preference result is roughly consistent with a recent survey conducted by Quinnipiac University (which showed McAuliffe leading by 5 points) but different from an April Washington Post poll that showed Cuccinelli leading by 5 points among all registered voters and by 10 points among those most likely to vote. The HuffPollster trend chart, which combines results from all of these surveys and more, currently has the race dead even with roughly 42 percent for each candidate. [Pollster]
CMPA 'STUDY' FINDS PARTISAN PATTERN IN POLITIFACT CHECKS - A new 'study' by the Center for Media and Public Affairs (CMPA) at George Mason University finds Republicans' claims are far more likely than Democrats' to be rated false by the fact-checking site PolitiFact: "According to CMPA President Dr Robert Lichter, 'While Republicans see a credibility gap in the Obama administration, PolitiFact rates Republicans as the less credible party.' The study examined 100 statements involving factual claims by Democrats (46 claims) and Republicans (54 claims), which were fact-checked by PolitiFact.com during the four month period from the start of President Obama's second term on January 20 through May 22, 2013....A majority of Democratic statements (54%) were rated as mostly or entirely true, compared to only 18% of Republican statements. Conversely, a majority of Republican statements (52%) were rated as mostly or entirely false, compared to only 24% of Democratic statements." [CMPA]
But not a random sample, so... - George Washington University's John Sides: "[Y]ou can't draw any firm conclusions from this exercise. Politifact isn't randomly sampling the statements of Republicans and Democrats. They're just examining statements they consider particularly visible, influential, or controversial. The data are consistent with any number of interpretations and so we can't say all that much about the truthfulness of political parties, about any biases of Politifact, etc." [Monkey Cage]
Politifact responds - "PolitiFact rates the factual accuracy of specific claims; we do not seek to measure which party tells more falsehoods...The authors of the press release seem to have counted up a small number of our Truth-O-Meter ratings over a few months, and then drew their own conclusions. We've rated more than 7,000 statements since we started in 2007. We are journalists, not social scientists. We select statements to fact-check based on our news judgment -- whether a statement is timely, provocative, whether it's been repeated and whether readers would wonder if it is true." [Politifact.org]
GALLUP CLOSE TO SETTLEMENT WITH DOJ - NPR's Carrie Johnson reports: "The Gallup Organization has reached 'an agreement in principle' with the Justice Department to settle civil allegations that the polling company overbilled the U.S. government by providing inflated estimates for federal contracts, according to a new court filing. A deal could be announced by mid-June, the court filing says, bringing an end to a costly and embarrassing episode that first came to light when a Gallup insider blew the whistle." Johnson also reports that the filing also says that "Gallup's lawyers are reviewing a draft agreement 'to resolve the related, collateral matter,'" presumed to involve the whistleblower case and FEMA's temporary suspension of Gallup's federal contracts, and "plan to meet with a separate Justice Department team handling that case 'to discuss a final resolution.'" [NPR]
WEDNESDAY'S 'OUTLIERS' - Links to more news at the intersection of polling, politics and political data:
-"Breadwinner moms," mothers who are the primary source of income for their families, are present in 40 percent of households with children. [Pew Research]
-59 percent of Americans want to send disaster relief funds to states without cutting spending in other areas. [WaPost]
-77 percent of Americans say religion is losing its influence in American life. [Gallup]
-Harry Enten questions whether Christine Quinn will make the NYC mayoral runoff. [Guardian]
-Mark Mellman says Democrats' demographics serve as an obstacle to retaking the House. [The Hill]
-Rachel Weiner say's PPP's Kentucky poll wasn't a "push poll." [WaPost]
-PPP finds "strong, bipartisan" support for background checks in Arkansas, Georgia and Tennessee. [PPP]
-William A. Galston and E.J. Dionne, Jr. examine the shift in public opinion toward marijuana. [Brookings]
-The editors of the Journal of Survey Statistics and Methodology explain its rationale. [Oxford U Press]
CORRECTION: This post originally misstated the results of an NBC/Marist survey on the Virginia governor's race.