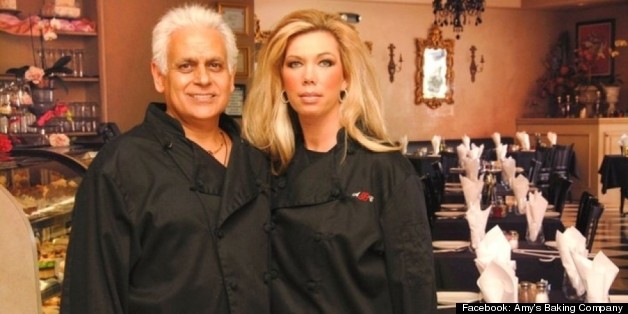 Because bad behavior is often rewarded in Hollywood, Amy and Samy Bouzaglo -- the couple who prompted chef Gordon Ramsay to walk off "Kitchen Nightmares" during the season finale -- may get their own reality series, according to RadarOnline.
The site reports that the proprietors of the now infamous Amy's Baking Company in Scottsdale, Ariz. are fielding offers from various production companies to headline their own show, after their terrible on-screen behavior and subsequent Facebook meltdown garnered national attention. Some of their "Kitchen Nightmares" antics included stealing the waitstaff's tips, picking a fight with a customer who'd waited an hour for his pizza, admitting to firing more than 100 people and serving pre-made frozen ravioli under the guise of fresh fare.
"Right now Cineflix is the most serious production company trying to secure Amy and Samy. They want to develop a show around their restaurant and their bad behavior," a source told RadarOnline. "Amy and Samy are all for it because they feel like it's the only way to keep their restaurant open."
Although the "Kitchen Nightmares" appearance brought the couple plenty of publicity -- albeit completely negative -- it was only the beginning of their troubles. First, a disgruntled employee took to Reddit to vent about the Bouzaglos' behavior on an AMA, then the company's grand reopening reportedly failed to draw more than a dozen people, before the restaurant again made headlines for kicking out a reporter after she complained about receiving drinks with fruit flies floating in them. To compound matters, Samy Bouzaglo may be facing deportation.
Naturally, all this drama makes the couple prime candidates for a reality TV series.
"Right now their agent is just looking out for them to make sure they get the best deal, so they want to wait on signing with Cineflix to make sure they've seen all the deals on the table," the source told Radar. "But no doubt, you will be seeing Amy and Samy on TV again sometime in the future."
For more, click over to RadarOnline.
Would you watch a reality show centered around Amy's Baking Company? Weigh in below!
PHOTO GALLERY
Summer TV Guide
BEFORE YOU GO