You begin with a spontaneous shape and go from there. That's the gist of David Habben's inspirational doodle series "Shapes of Consciousness." The Salt Lake City-based illustrator turns impromptu squiggles, lumps and loops into hunched cavemen, trenchcoat-wearing spies, babushkas and more.
We stumbled upon Habben's series on Visual News and immediately fell for the drawings, which resemble the happy marriage of a Swoon work and a round of Telephone Pictionary.
We reached out to Habben to learn more. Scroll down for the interview.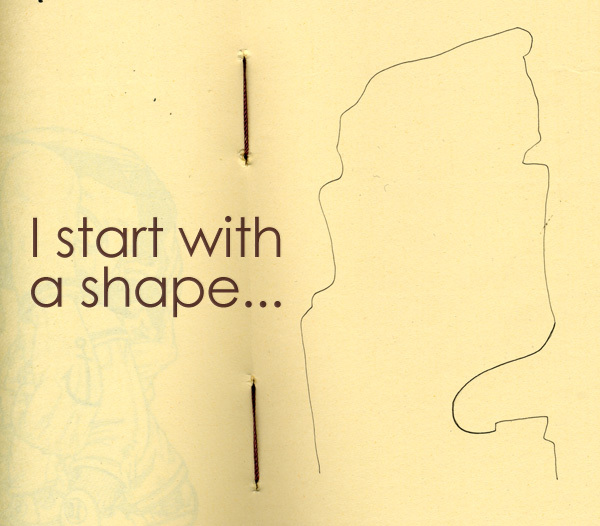 PHOTO GALLERY
David Habben
How did the project begin?
It's a real simple idea, and i think it is something a lot of people identify with. I use a little sketchbook and make a shape as blindly as possible. I then try to create a character within that shape. There was really no profound moment, it's all experimenting.
What reactions have you seen to the works?

It's been overwhelming. I would have never expected the kind of response I've had to this one series.
What do you think it is about this particular series that people are so moved by?

I think the idea that it wasn't something preconceived and somehow it actually worked out. It's very accessible; I really want people to experiment through practice [and] get into their own drawings again.
Which artists inspire you?

The Hanuka brothers, Alex Nabaum and Robert Neubecker have all been big influences.
What's the easiest way to begin a sketching habit?

Don't think about the finished product of your sketch. It's just about putting that pen and pencil on paper. One of the blessings and challenges of the internet is that we are surrounded by artists and illustrators all the time. It can be so overwhelming and also crushing to people's creativity and ambition. There are moments for me when I have to step away from everything and take myself away from that comparison. It doesn't have to be a fancy book or a fancy pen; I do almost all my stuff with a ballpoint pen. It's whatever works for you and just have some fun from it.
Leave your thoughts on Habben's project in the comments!