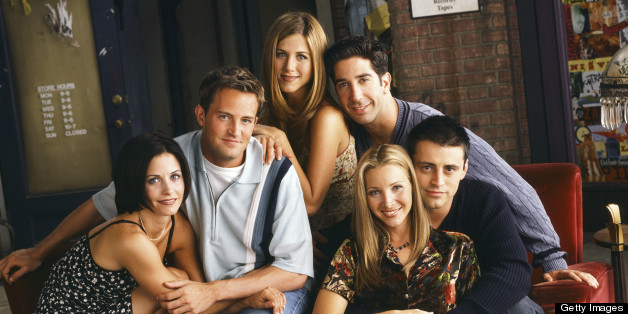 Still hoping for a "Friends" movie? Don't hold your breath.
Matthew Perry, who recently reunited with Courteney Cox and Jennifer Aniston for a sketch on "The Ellen DeGeneres Show," told "Good Morning America" that he doesn't think a true "Friends" movie or reunion is in the cards.
"It would be terrible to do something and have it not be good," Perry told "GMA." "It was so terrific ... If we did a ['Friends'] movie and it sucked, then it would, you know, blemish it."
In November 2012, "Friends" co-executive producer/director Kevin S. Bright told TV Guide, "There is absolutely, 100 percent no talk about a reunion ... There will be no 'Friends' movie ... It was made to be an intimate show in your living room. It wasn't a broader show like many of the comedies today that are shot single-camera. It's wonderful the way it is."
Matt LeBlanc, who played Joey on the series, is in Perry and Bright's corner.
"Everyone's going to have different vision of what those characters are like, so to have that materialize is going to disappoint most people," he told Entertainment Weekly in June 2012. "A couple of people will go, 'That's what I thought!' but for the most part it's going to let people down. It's better to let them just think."
Before Aniston co-hosted the "Ellen" last week, the "Friends" alumna did a pre-taped segment where she stopped by Perry's place for some advice and found out he was sleeping with Cox as well as DeGeneres and her wife Portia de Rossi.
The gag might not have been a "Friends" movie or the reunion fans hoped for in April, when rumors of a Thanksgiving 2014 gathering had fans of the NBC sitcom in a frenzy, but seeing Rachel Green, Chandler Bing and Monica Gellar certainly had fans excited.
During Aniston's time on "Ellen," De Rossi and DeGeneres pressed her on her feelings about a true "Friends" reunion. "Doing that little bit with Matty and Court, we all were very nostalgic and miss working together and love each other," she said. "It's a great thing to get to go back to your family like that and also know that people will love it and enjoy it."
Do you think a "Friends" movie would be great or "terrible"? Sound off in the comments!
BEFORE YOU GO