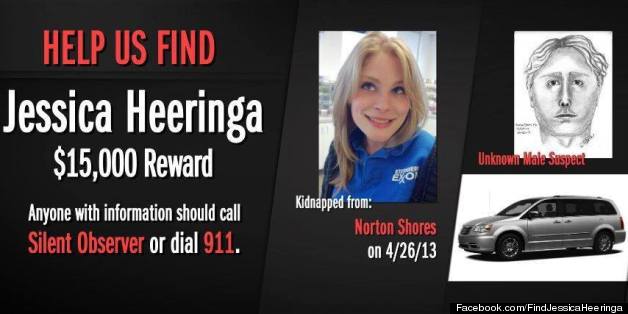 One month ago, Jessica Heeringa, a 25-year-old mother, was abducted while working the night shift at a Michigan gas station.
Since that day, April 26, family, friends, strangers and investigators with the Norton Shores Police Department have worked tirelessly to bring Herringa home, without success.
Despite the passage of time, no one is ready to give up hope that Heeringa will be found safe.
"We believe she is being held against her will. We think it is probably someone she is acquainted with -- maybe a customer of the gas station or someone she knew through a friend of a friend -- who built up an obsession with her in their mind," Carrie Mitchell told The Huffington Post.
Mitchell, a Heeringa family friend, is the administrator of the "Find Jessica Heeringa" Facebook page. She said she is in daily contact with the missing mom's family.
"If the [person responsible] feels he's getting away with it, it could very well happen again, and it may happen in our area," Mitchell said.
Heeringa was last seen at the Exxon Mobil gas station in Norton Shores. Her last recorded sale was at 11 p.m. A customer called police approximately 15 minutes later to say there was no one working at the still-open gas station.
Police ruled Heeringa's disappearance an abduction and announced they were searching for a silver or gray minivan, possibly a 2005 Town & Country model, that was seen leaving the scene at about 11 p.m. Investigators said a witness reported seeing the van with an unknown driver, whom authorities have described as 30- to 40-year-old man.
The van and a sketch of the driver are among the few clues police have, but so far neither has yielded anything substantial. Authorities cautioned this week that they are still not positive the van or the sketch are even connected to the case.
"I need to be clear: We don't know if that van was involved. We really don't know that," Norton Shores Police Chief Dan Shaw told Mlive.com on Tuesday.
Shaw told Mlive.com that there are no new developments in the case. However, Mitchell said authorities told the family they have made headway in narrowing down the search for the minivan in question.
"I know they've narrowed it down to a few hundred, and they have interviewed 50 to 60 minivan owners," Mitchell told HuffPost. "They are also looking into stolen vans and vans that have been sold."
JESSICA HERRINGA CASE PHOTOS: (Article Continues Below)
PHOTO GALLERY
Jessica Heeringa Missing
Mitchell said Heeringa's fiance, Dakota Quail-Dyer, recently decided it was time to tell the couple's 3-year-old son that his mom is missing.
"They worked with a counselor to tell him in the appropriate way and he just keeps saying, 'We'll find her.' He does not comprehend what's going on, but he does know mommy is missing," Mitchell said.
Mitchell and other volunteers are working with Buffalo Wild Wings to raise funds for Heeringa and her family. Information about the fundraiser will be posted to the "Find Jessica Heeringa" Facebook page as soon as the details are finalized.
"We just pray every day that she's fighting and staying strong. We do firmly believe she will be found and brought home," Mitchell said.
Jessica Heeringa is described as white, 5 feet 1 inch tall and 110 pounds, with blond hair and blue eyes.
Anyone with any information is asked to call Silent Observer at 231-722-7463 or the Norton Shores Police Department at 231-733-2691.
BEFORE YOU GO