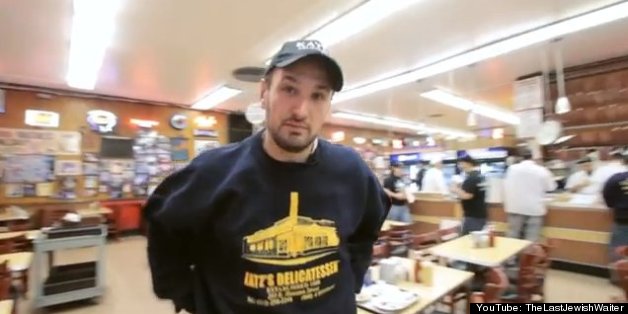 "I hate this place, I do. You'll see." That's how David Manheim begins his YouTube series "The Last Jewish Waiter." This first sentiment is followed immediately thereafter with a less safe for work expression of that same idea. David Manheim is a jerk. But he's our favorite kind of jerk.
"If Katz's was a car, the cutters would be the engine. They are providing meat and sandwiches and putting it out there. They also provide a total smattering of old school New York flavor, which is fine if you're a customer, but if you work here, it's a f***ing pain the ass," he explains. This Katz's Delicatessen employee always wanted his own talk show, so instead of waiting for someone to give on to him, he just took his own, inviting cameras into Katz's to film his daily interactions. They are NSFW, rude, grumpy and everything we love about the kind of jerk/waiter who can carefully straddle the line between being lovable and being unbearable. We pretty much insist that you check out the video below to decide which way you think Manheim is leaning (as a bonus, you'll get an inside look at how Katz's works, as well as some pretty great pastrami porn).
And seriously, NSFW language ahead.
"You got roast beef?" He asks a customer incredulously. "That was your mistake, next time get the pastrami." It's like my grandmother and every teenage boy I went to Hebrew school with became a waiter at Katz's and made themselves a talk show. So, needless to say, we'll keep watching.
[via The Awesomer]
Want to read more from HuffPost Taste? Follow us on Twitter, Facebook, Pinterest and Tumblr.
BEFORE YOU GO
PHOTO GALLERY
Deli Sandwiches