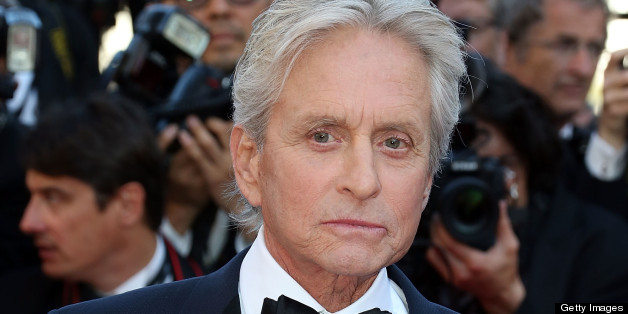 Michael Douglas might be a straight, married man in Hollywood, but he got a glimpse at life as a famous, closeted gay star while playing Liberace in the HBO biopic, "Behind the Candelabra."
Although times have changed since Liberace's day, Douglas knows some celebrities continue to stay closeted in order to "protect" their careers.
"It's a much smaller minority of people who think they still have to stay in the closet," Douglas told the United Kingdom's ShortList magazine about gay celebrities today. "It's quite interesting to see how fast it's all changed."
"Without naming names, I certainly think there are a couple of people out there who have not come out in the spirit of protecting their careers and livelihoods," he added. "It's probably a little bit more difficult going that way. I think that's true."
Douglas certainly knows a bit about the business side of things, which affected his Liberace biopic when it came to buyers.
Director Steven Soderbergh previously told the New York Post that no studios wanted to touch "Behind the Candelabra" because they thought it was "too gay." The Oscar-winning director was "stunned" when studios rejected his film because they weren't quite sure how to market it for big-screen consumption.
"I think the studios, in their infinite wisdom, even with Matt [Damon], myself and Soderbergh attached, thought it would only attract a gay audience," Douglas told ShortList. "And with the cost of marketing movies and making them, they didn't want to take that risk. ... I see it as the studios' loss."
Although he is proud of his work in the film, had the 68-year-old been offered the role 20 years ago he might not have been so quick to accept it. Douglas admitted he wouldn't have had the "courage" to play a gay role in the midst of a rising career, the Salt Lake Tribune notes.
"I just want to commend Matt," Douglas said of Damon, who is 42 and plays Liberace's much younger lover, "because I don't think I would have had the courage at that point in my career to take this on."
Visit ShortList to read Andrew Dickens' interview with Michael Douglas.
BEFORE YOU GO
PHOTO GALLERY
Celebrities Who Have Come Out As LGBT