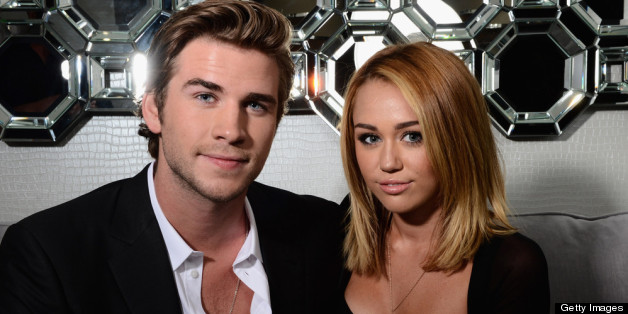 Headlines may claim Miley Cyrus and Liam Hemsworth have split, but a source tells E! News that the breakup rumors are false and the engagement is still on.
"It's been rocky, but they are hanging in there," a source told E! News about the state of Cyrus and Hemsworth's engagement. Not only are the two still set to wed, but they are also still living together at the former Disney star's Los Angeles home.
The rumor mill has been furiously churning with claims Cyrus and Hemsworth have split after getting engaged last June. On Wednesday, Us Weekly reported it's officially over after the "Hunger Games" hunk was the one to call it quits with the "Ashtrays and Heartbreaks" singer.
Although she hasn't addressed the recent gossip, Cryus tweeted a photo of her wearing what might be a wedding dress to her followers on Wednesday. Whether or not this is just an outfit for an upcoming music video is unclear.
She did open up about her relationship in the Summer 2013 issue of V Magazine, reasoning that just because her and Hemsworth are not always physically together does not mean they're broken up.
"[I]t's like, I'm not home with my boyfriend all the time," she told V. "We work. Every week it's "Are they broken up? Because we don't see a photo of them." I don't have time to go to Starbucks with my boyfriend every morning. I wish I did, but I don't. I'd rather chill at my house and be there for the time I actually get to spend with him. And then I'm at the studio all day. He gets up to work out at six and I come home at five from the studio."
Talk of a Cyrus-Hemsworth split has been circulating since March and the 20-year-old didn't do anything to ease the speculation when she stopped wearing her engagement ring. Another crux? Those close to her have been blabbing to the press about the supposed breakup. Cyrus' dad, Billy Ray, described his daughter and her fiance as just "great friends" when talking with ABC News in April about the wedding plans. That same month, Snoop Lion told HuffPost Live Cyrus "had a relationship that no longer exists."
BEFORE YOU GO
PHOTO GALLERY
Engaged Celebrities