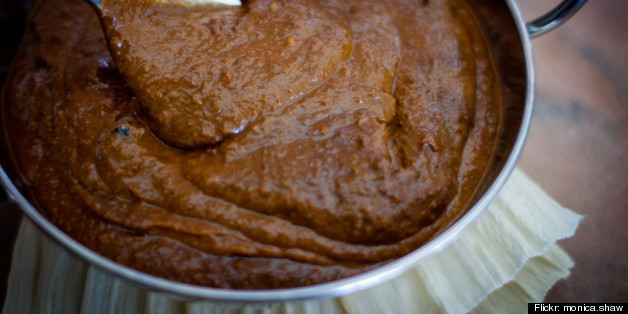 Mole is to the Mexicans what ragu is to the Italians. It's a beloved sauce that's the crowning jewel of their cuisine -- and one that's truly a labor of love. Not only does this dish ask for an encyclopedia of ingredients of chiles, spices and chocolate, but its in-depth steps could intimidate the most seasoned of cooks. And we haven't even talked about the stirring. There's a lot of stirring required to make a proper mole.
What we like most about mole, besides its incredibly rich and complex flavor, is that it's best made by home cooks who don't mind spending the day pouring love into just one dish. It's a dish of tradition, with a recipe that's passed on through family members. It's a recipe called upon for celebration and special occasions. And it's deeply rooted in Mexico's history. Mole has been cooked and preserved for centuries, making it beyond perfected. Which is exactly why you should take the time to master it.
We know what you're thinking. With everything we've just said about the intensity required to make mole, why in the world would you ever give it a try? Well, for one, because it's mole -- and having an amazing mole recipe up your sleeve will serve you well in life. Trust us.
And two, because if little old Mexican grandmothers are happily spending their time and energy making this dish, we're certain you can do the same. Just remember, at the end of it all, you will be rewarded with a huge supply of mole, and that's enough to make even the most arduous tasks more than worth it. Now go forth, and make mole. We're fans of this Mole Poblano recipe but there are many variations on this classic to explore.
Want to read more from HuffPost Taste? Follow us on Twitter, Facebook, Pinterest and Tumblr.
Get more Mexican recipes!
PHOTO GALLERY
Mexican Night
BEFORE YOU GO