The artist behind the colorful "Cheesecake Boys" series is at it again.
Paul Richmond, who resides in Ohio, is back with "Noah's Gay Wedding Cruise." The oil painting puts a whimsical, gay twist on the biblical narrative of Noah's Ark, with "Brokeback Mountain" characters sharing deck space with gay celebrities like Ellen DeGeneres and Portia Rossi, while right-wing pundits and Westboro Baptist Church members tread water in the stormy sea below.
Richmond told HuffPost Gay Voices in an email that the painting "humorously expresses my optimism about the marriage equality movement."
Take a look at "Noah's Gay Wedding Cruise," then scroll down to keep reading: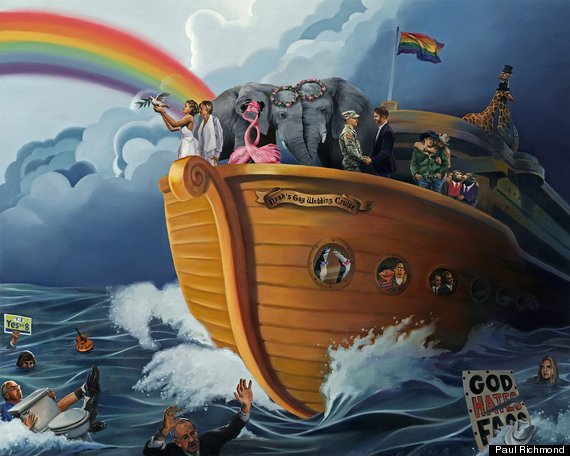 "I chose to symbolize our eventual victory with my own version of the Noah's Ark story, complete with happy gay and lesbian animal couples and even some drowning sinners," he added.
Richmond and his longtime partner will participate in a program called "C-Bus of Love." As part of the program (which is sponsored by MarriageEvolved), they will travel to Washington D.C. with 24 other lesbian, gay, bisexual and transgender (LGBT) couples to get married on the steps of the U.S. Supreme Court.
Proceeds from the sale of "Noah's Gay Wedding Cruise" will be donated to MarriageEvolved to fund the trip and future work of the LGBT advocacy organization.
Read more about "Noah's Gay Wedding Cruise" here.
Take a look at Richmond's "Cheesecake Boys" series, which casts hunky men in the mid-20th century style pin-up roles traditionally played by women, below:
BEFORE YOU GO
PHOTO GALLERY
Paul Richmond's "Cheesecake Boys"