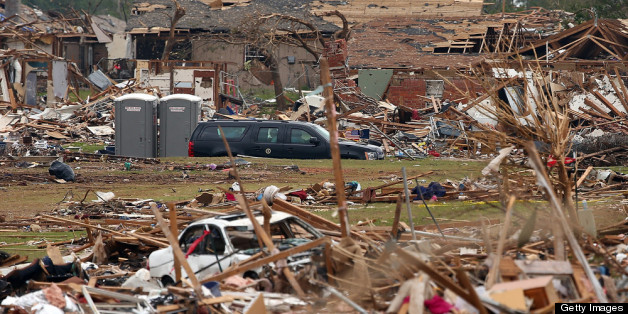 When the tornado tore through one Moore, Okla. couple's home last week, they feared their upcoming wedding would have to be postponed.
But the wedding is still on, because all of their wedding essentials remained miraculously untouched.
Mady Gosh and Jason Velasquez told ABC News Wednesday that they had been planning their Disneyland wedding for six months when the tornado hit. Neither was home at the time, and when they returned, they discovered that their house had been severely damaged -- except for Gosh's craft room, where she had saved projects she was working on for the wedding.
Gosh's wedding dress was also saved, since it happened to be at the dry cleaner across town. And her wedding ring was safe at the jewelers, where it was being fixed after a diamond fell out the week before.
Velasquez's ring and suit remained untouched in the house, as did a framed photo of the two of them that sat on their bathroom sink.
Gosh and Moore are now looking forward to their wedding at Disneyland and reception in Oklahoma in June.
"As time goes on, we'll look at May 20 as the day we became stronger, together," Velasquez said.
In the wake of a natural disaster, engaged couples often find themselves scrambling to rebuild their wedding plans. One Oklahoma couple was forced to put their wedding plans on hold when the paperwork for the bride-to-be's visa was destroyed in the tornado, forcing her to go back to China and wait for the visa there.
After Hurricane Sandy last October, New York couples had to find new venues, downsize their guest lists and even postpone their events altogether.
Click through the slideshow below to see photos of the Oklahoma tornado's destruction.
PHOTO GALLERY
May 2013 Central U.S. Tornadoes (GRAPHIC IMAGES)
Keep in touch! Check out HuffPost Weddings on Facebook, Twitter and Pinterest.
BEFORE YOU GO