In the cover story of this week's Time magazine, Chicago Mayor Rahm Emanuel told the magazine that -- despite deflating approval ratings, the Windy City's epidemic of gun violence and the dramatic, ongoing battle over mass public school closings -- he is currently "the happiest I've ever been in public life."
The former White House Chief of Staff, who is beginning his third year as Chicago mayor, is described in the feature by Time editor-at-large David Von Drehle as "[a]rrogant, chesty, prickly, yes, but never stupid" and his "death stare" also receives a special mention. The story is titled "Rahm Emanuel Left the White House to Run a Broke, Violence-Plagued City, and He's Having the Time of His Life."
When asked about his ever-rumored presidential aspirations, Emanuel replies, "No. I'm not. Never. It is not happening. I don't know how else to say it. No." And when asked about his quarrels with the Chicago Teachers Union -- which lead to the city's first teacher strike in 25 years last fall -- he admits "it's not a strategy the old Rahm would have advised a candidate to follow."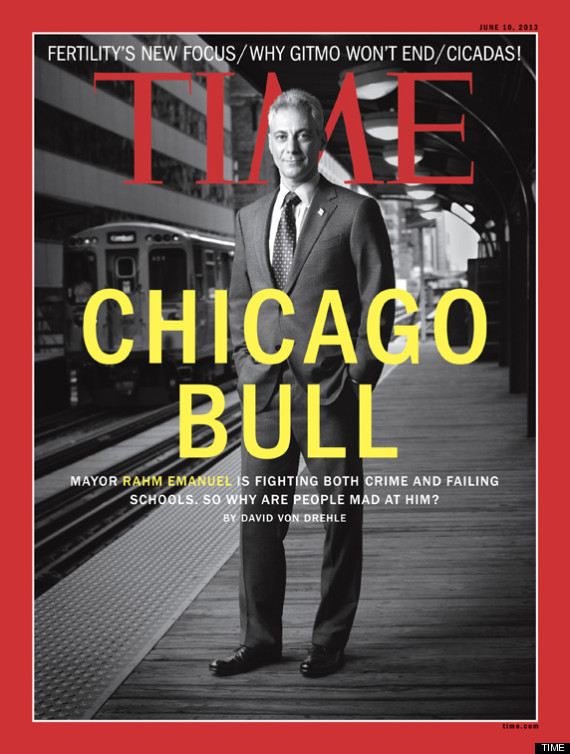 The feature is not the first time Emanuel has granted an interview to a high-profile publication in order to tout his administration's achievements to a national audience. Last September, Emanuel was featured in the Wall Street Journal and described as having a "cool approach" to the Chicago teachers strike. In April 2012, a profile in The Atlantic read "Chicagoans are lining up to buy [Rahm]."
Emanuel said in a Thursday news conference that he embraced how the Time feature depicted him, according to DNAinfo Chicago, particularly the cover's headline that overlays a photo of him standing on an 'L' platform: "Chicago Bull."
"I'm very bullish about Chicago. I'm bullish about our future… I'm bullish about a Chicago that has reached a milestone, where two years in a row, more kids are graduating high school than ever before."
The complete story is behind a paywall on Time's site, but the magazine hits newsstands Friday.
BEFORE YOU GO
PHOTO GALLERY
The Many Sides Of Rahm Emanuel