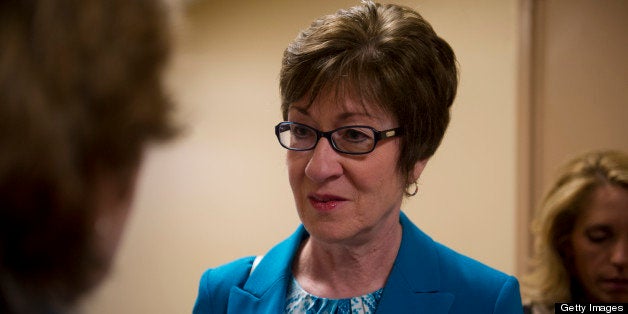 Two tea party activists joked on a conference call on Wednesday that the only way to get Sen. Susan Collins (R-Maine) to listen to their views on immigration reform would be to shoot her, and the response from others was only laughter and "oohs," according to ThinkProgress.
The statement was made during a Tea Party call hosted by the Eagle Forum group. The statements, made by two callers who didn't reveal their full names, was transcribed by ThinkProgress:
BOB FROM MAINE: I'm from Maine and our Tea Party will be meeting up next week. What is the best way that we can get our senator to listen to us?

ANOTHER CALLER: Shoot her. [laughter]

MODERATOR: Yes, we will shoot her with…(inaudible) and phone calls.
Collins hasn't yet said how she would vote on comprehensive immigration reform, which will go to the floor early next month after the Senate has resolved its farm bill. The bipartisan "gang of eight" immigration bill passed in the Senate Judiciary Committee last week in a 13 to 5 vote, with three Republicans joining to vote for the bill. Two of those, Sens. Lindsey Graham (R-S.C.) and Jeff Flake (R-Ariz.), are members of the gang of eight, while one, Sen. Orrin Hatch (R-Utah), signed on only after his amendment on high-skilled worker visas was adopted. Hatch said his vote for the bill in committee does not necessarily mean he will support it on the Senate floor.
Senate Majority Leader Harry Reid (D-Nev.) told news program "To the Point" on Tuesday that he expects it will be "pretty easy" to get the 60 votes to avoid a filibuster, and that he will need only eight Republicans to support the bill.
Many Republicans outside the Judiciary Committee have declined to give a straight answer on whether they will support immigration reform. But Collins, often a more moderate member, may be a likely target for crossing the aisle on immigration reform. She's the sole Republican co-sponsor in the Senate of the Uniting American Families Act, a contentious bill that would allow LGBT couples to be considered in the same way as heterosexual ones for spousal visas. An amendment based on that bill from Senate Judiciary Committee Chairman Patrick Leahy (D-Vt.) was withdrawn last week, to the dismay of advocates. It could, however, come up again on the Senate floor.
BEFORE YOU GO
PHOTO GALLERY
Tea Party Statements