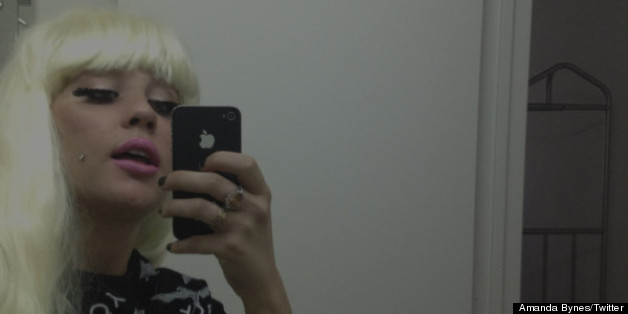 Amanda Bynes' crazy behavior is a hot topic and it seems like everyone has something to say about it.
The 27-year-old was arrested on reckless endangerment charges last week, and since then both celebrities and has-beens have been coming out of the woodwork to put in their two cents -- much to Bynes' chagrin.
Former 'NSYNC member Lance Bass called in to Mark and Mercedes radio show on May 30 to offer his thoughts on the actress he used to consider a friend:
"It's one of those situations where obviously there's some mental problems there and she's not able to see that. We all are [able to see it]. No one is able to get to her. I'm actually really scared for her, and I hope someone is able to get to her to give her the help she needs."
We have to wonder if Bass is just as concerned with staying relevant as he is for Bynes' well-being. Likewise, former "Silver Spoons" star Ricky Schroder spoke to ABC News about Bynes and fellow troubled actress Lindsay Lohan.
"My heart goes out to them. I wish some people would intervene on their behalf. They are in a place right now that is not good. A lot of people around them don't care about them and want to capitalize on it. I feel bad for them," he said.
Meanwhile, actor David Spade told TMZ he's "scared of Amanda Bynes" and joked that she'll call him "ugly" on Twitter if he dare say anything unflattering about her. "I think she's pretty and she's got great boobs. If you cut out all the stuff, she's technically, for all intents and purposes, very pretty -- but I think she's getting in her own way."
Even music mogul Russell Simmons weighed in on the former "She's The Man" star's behavior. In a blog post, Simmons wrote though he's never met her, he knows she has "great gifts to offer this world."
"It is sad for me to watch the struggles of this very talented young actress. I have seen this story play out so many times throughout my career... I have grown to learn that you'll actually evolve faster when you look to uplift, rather than judge those who seem to be struggling in life. I am a firm believer that there are better days ahead for Amanda," he wrote.
Courtney Love also tweeted her feelings about Bynes, telling the actress to "pull it together" -- only to feel her wrath when Bynes called her "ugly." Love later expressed an offer of support and during an interview on the "Opie & Anthony" radio show, Love mistakenly referred to Bynes as a "Disney kid," and took issue with Bynes' love of calling people ugly:
"I think she likes the word 'ugly' a lot….it's like, what's that about?" she said when asked about the actress. "There's this whole thing about Disney kids -- they're not educated. Look at how she writes. I'm not educated either, but at least I'm autodidactic. At least I try and read Flaubert, do you know what I mean? [And] to pronounce it correctly. And they have no parental infrastructure, and after they're not nubile anymore or useful they're sort of waylaid…"
Many others including Alyssa Milano and Jenny McCarthy have offered support to Bynes, but it's pretty clear she doesn't want any of it. On Thursday, Bynes told gossip blogger Perez Hilton to "kill [himself]" after he gave an interview expressing his concern for her.
And while Bynes' go-to response to anyone commenting on her behavior seems to be to call them ugly, she wants everyone to know:
I'm Not Crazy

— Amanda Bynes (@AmandaBynes) May 30, 2013
BEFORE YOU GO
PHOTO GALLERY
Amanda Bynes Twitter Pictures