Making stuff animals and cartoons alongside its popular game apps, Angry Birds maker Rovio long ceased being just a gaming outfit and is now a full-fledged entertainment company. The latest jigsaw piece in the slowly forming puzzle: an Angry Birds-themed coffee table book, the Finnish company announced Friday.
The hardcover book, called "Angry Birds: Hatching a Universe," is now available for purchase on Amazon for $32.55 with Amazon Prime. It's fully illustrated and, according to Rovio's website, "takes you behind the slingshot and gives you the untold story of how it all happened, from the earliest conceptual sketches revealed for the first time to a sneak peek of what the future holds," if you've ever been curious.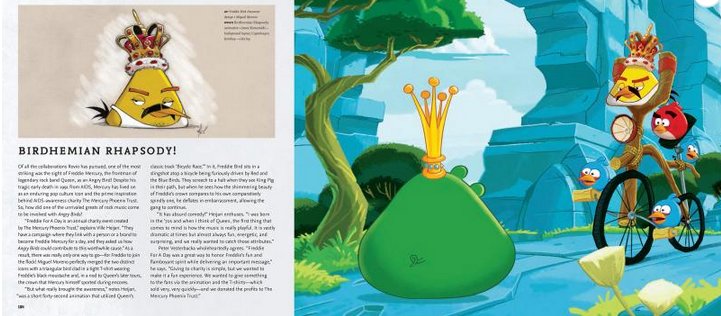 Angry Birds is just one of many Internet phenomena that have spawned books. Grumpy Cat is selling a book on Amazon and even has a movie in the works. Many Twitter feeds have been turned into books.
This isn't the game's first book, either. Angry Birds has spawned a National Geographic space-themed book, an iPad cookbook, and "doodle books" for kids.
But the empire that Angry Birds app gave birth to is unparalleled. Angry Birds sells everything from sunglasses to computer cases to bird-shaped speakers (at $79.99, the most expensive Angry Birds merchandise). The firm is so "insanely profitable," said Angry Birds creator Peter Vesterbacka in February, that it doesn't need to raise funds through an initial public offering just yet.
In 2011, Vesterbacka said his goal was to make Rovio become the size of another media conglomerate, Disney, which was worth $60 billion at the time. Two years later, The Wall Street Journal pegged its value at $2 billion, though one analyst has said that it's as high as $9 billion. In either case, expect more merchandise.
BEFORE YOU GO
PHOTO GALLERY
Amazon's Best Selling Books of 2012