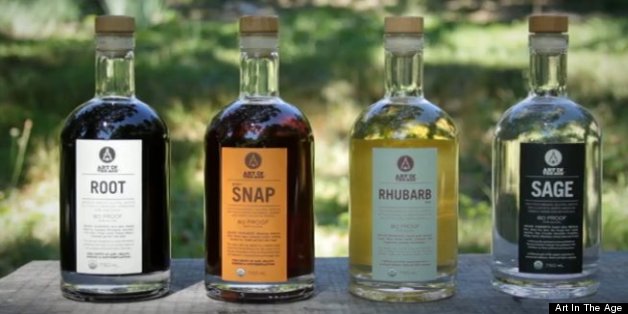 Philadelphia-based Art in the Age of Mechanical Reproduction isn't your typical spirits company. We mean this in two ways: 1) they don't make typical spirits, and 2) they operate differently and produce more kinds of products than any other liquor company we can think of. In addition to their four signature, organic spirits -- Root, Rhubarb, Sage and Snap -- Art in the Age also makes apparel, tote bags, preserves, soaps, stationery and quilts.
Does this sound a little bit like a hipster booze collective to you? Well, we guess it sort of is. But don't let that put you off before you taste their product. There is no way we could describe the history or mission of Art in the Age better than its creator, Steven Grasse, so we'll let him take care of that for us in the below video.
"I think people in the spirits industry are obsessed with 'what is the legal definition of rum, gin, whiskey?' We really break into new categories, and we do it by going back in time. Root, Sage, Snap, Rhubarb tea, these things are pre-pre-pre-Prohibition. We innovate by being historic."
Each of these spirits is a history lesson, which we have to say, really appeals to the specific kinds of nerds we are. Rhubarb was born out of Pennsylvania's late spring rhubarb bounty and a tea made with it (history nerds, check out the video story of how rhubarb in America is totally the work of Ben Franklin). Sage is an homage to the garden gins of Thomas Jefferson and his contemporaries. The idea for Snap came from Grasse's grandmother's gingersnap recipe, and the desire to honor the tradition of Pennsylvania Dutch baking. Their first and (so far) most popular spirit, Root, stems from the original Native American recipe for root tea (which evolved into what we know as root beer).
Art in the Age is careful to note that none of these spirits are flavored vodkas or "sickly sweet liqueurs," these are assertive, 80 proof spirits, distilled using the ingredients they get their names from. Since we don't, as a drinking culture, currently have anything like them, they're a little hard to describe. So, obviously we had to taste them all.
Some of us had tasted Root before, so knew what to expect, but one of our tasters was very surprised, noting, "I don't like root beer, but this is great and I would love it in a cocktail." Rhubarb was a little trickier to taste on its own, leading more than one of our tasters to note that it would probably be great with prosecco or cava. The herbaceousness of Sage led a few of our tasters to compare it to perfume or soap -- but the heavy sage aroma and gin-like flavor had more than a few of us craving a martini. Snap was significantly less sweet than we were expecting, and lent a warm spiciness that we can't wait to try in a hot toddy this fall.
If you pick up any of these spirits (which retail for around $40 a bottle), be sure to check out all the cocktail recipe suggestions on the Art in the Age website.
Want to read more from HuffPost Taste? Follow us on Twitter, Facebook, Pinterest and Tumblr.
BEFORE YOU GO
PHOTO GALLERY
Floral Cocktails