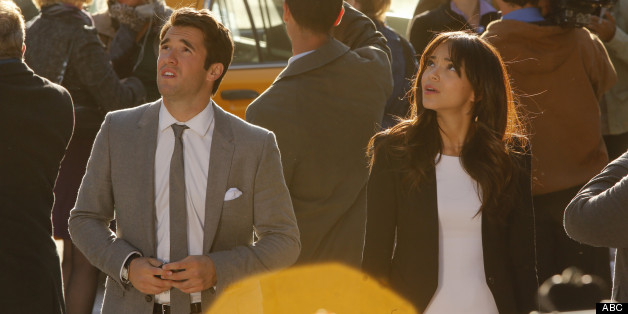 Add this to the list of Season 3 changes -- Ashley is also leaving "Revenge."
British actress Ashley Madekwe, who played Ashley Davenport on the ABC primetime soap, is exiting the series after two seasons, Deadline was the first to report.
According to the website, Madekwe's option "was not picked up due to ... storyline reasons." Ashley Davenport was introduced in the pilot as Victoria Grayson's (Madeleine Stowe) event planner and Emily Thorne's (Emily VanCamp) friend, helping Emily get close to the Grayson family.
Ashley's storyline seemed played out after "Revenge's" first season, but Season 2 found her getting even closer to the Graysons, sleeping with both Conrad (Henry Czerny) and his son Daniel (Joshua Bowman). She got upgraded to Conrad's assistant, then PR rep for his political campaign, but in the Season 2 finale, Conrad won the election so it seems he'd no longer need Ashley around.
Madekwe tweeted about Ashley's "Revenge" departure and how she wants to see her go (i.e. fashionably).
My preference is that Ashley Davenport dies in a blaze of glory. Preferable whilst wearing Valentino couture....Or Chanel. I'm not fussy.

— Ashley Madekwe (@smashleybell) May 31, 2013
Seemingly, Madekwe has no hard feelings about Ashley leaving "Revenge."
So much love on here this morning. You guys are killing me! #Revenge is awesome and will hopefully continue for many years to come. xoxo

— Ashley Madekwe (@smashleybell) May 31, 2013
Madekwe's "Revenge" exit is just one of many differences fans will see heading into the show's third season. Connor Paolo's character Declan Porter died in the Season 2 finale and creator Mike Kelley revealed he was stepping down as showrunner with Sunil Nayar recently announced as his replacement.
Were you upset to find out Ashley's leaving "Revenge"? Will you be watching Season 3? Sound off in the comments!
"Revenge" Season 3 premieres this fall on Sundays at 10 p.m. ET on ABC.
PHOTO GALLERY
ABC's New Shows 2013-2014
BEFORE YOU GO