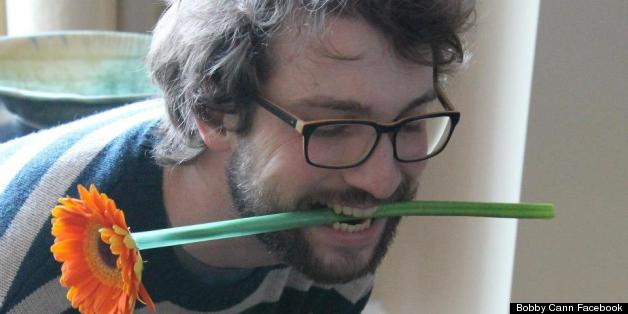 Updated story
The grief over the death of cyclist Robert "Bobby" Cann has been sharply felt in the Chicago cycling community and beyond ever since the news that the 26-year-old was killed biking home from work Wednesday evening.
Cann was heading home from his job at Groupon around 6:35 p.m. Wednesday when he was apparently rear-ended by a silver Mercedes that had seconds earlier collided head-on with an Infiniti sedan. (See a photo of the Mercedes after the crash.)
Streetsblog Chicago reports both the Mercedes driver and Cann were traveling southeast on Clybourn Avenue near Larrabee Street in Old Town.
Cann was wearing a helment according to reports, but was thrown from his bike. According to the Tribune, Julie Dziak, a nurse who drove by the scene just after the crash, tried to staunch the bleeding from Cann's leg wound. Cann would be pronounced dead at Northwestern Memorial Hospital an hour later.
The driver, Ryne San Hamel, was charged with reckless homicide, felony aggravated driving under the influence involving a death and other charges in the crash on Friday, according to the Tribune.
Hamel, a partner in a business called AllYouCanDrink.com, was ordered held on $100,000 bond in court Saturday, DNAinfo Chicago reports.
Streetsblog noted "the car-bike crash might have been avoided if this stretch of Clybourn had protected bike lanes." Clybourn, however, is under the jurisdiction of the Illinois Department of Transportation; in February, IDOT blocked the City of Chicago from installing protected bike lines on such roads until it could gather data of safety.
(View a map of Chicago bike lanes in IDOT's jurisdiction.)
In a touching tribute reported by DNAinfo Chicago, friends and family recalled Cann as helpful, kind and funny; his passion for cycling took him on every kind of tour from multi-state treks to Chicago's monthly Critical Mass ride.
"We hardly believed what happened. He was like a brother to me," Cann's best friend and roommate Drew Ellis told DNAinfo. "He was a lot of people's best friend just because that's the kind of person he was. You wanted him to be your best friend."
Hamel, the driver of the Mercedes, stayed on the scene and was questioned by police. The Tribune previously reported the Hamel had not had any major traffic citations on his record with the exception of a 2010 ticket for disregarding a stop light or stop sign and a 2003 citation for carrying alcohol in a vehicle.
Several Critical Mass cyclists rode in Cann's memory during Friday's event, held monthly on the last Friday of every month. The site where Cann was killed was added as a stop on Friday's route.
Cann, who friends praised as an unfailing safe biker who obeyed traffic laws and encouraged the same of others, had participated in the Ride of Silence for slain bikers just two weeks earlier.
BEFORE YOU GO
PHOTO GALLERY
How To Bike Commute Like A Pro