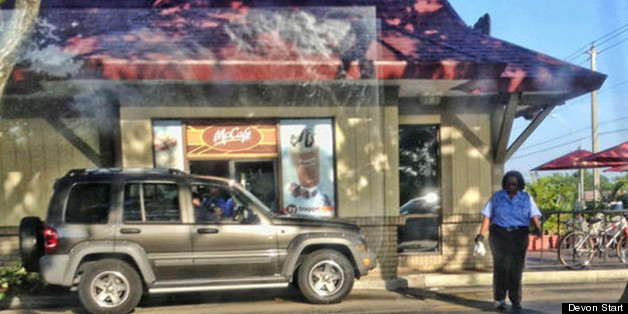 Warning: This driver brakes for McDonald's.
A Broward transit operator pulled her bus over to make a fast-food run recently, leaving one of her passengers broiling in frustration.
Did driver Yolando Davis heed the call of a Big Mac Attack?
Probably not. The unusual pit stop was early in the morning, when breakfast is on the menu.
Passenger Devon Start said being late to work as an over-the-phone salesman in Hollywood is his "pet peeve." He was aboard the No. 12 on May 17 when the lumbering county bus approached the intersection of Stirling Road and Davie Road Extension in south Broward.
The bus pulled over "right on the side of the road," he said. Davis disappeared into McDonald's and emerged 10 to 15 minutes later, Start said. In her hand: the distinctive, little, white McDonald's bag. He never saw what was inside.
"That Egg McMuffin almost cost me MY job as the bus was late," Start complained to the Sun Sentinel afterward, sending photographs he snapped on his cellphone.
Davis couldn't be reached for comment. But her fast-food errand didn't violate any Broward County transit rules, her bosses determined this week.
The way the county policy goes, if a Broward transit driver has a hankering for Wendy's chili and can make it back onto the bus within five minutes, no harm done. The food can't be consumed on the bus, though.
In this case, county bus system spokeswoman Phyllis Berry said Davis' stop took fewer than five minutes.
William Howard of Amalgamated Transit Union Local 1267 said drivers don't have guaranteed breaks, so the "vast majority" bring a sack lunch and don't pull over for Sausage McGriddles.
Start said he might have been forgiving -- maybe a sausage burrito would have helped.
"Maybe if she'd gotten some for everybody it'd be a different story," he said, "but she didn't even think to do that."
bwallman@tribune.com or 954-356-4541 ___
PHOTO GALLERY
Bus Driver Makes Pit Stop At McDonald's
BEFORE YOU GO