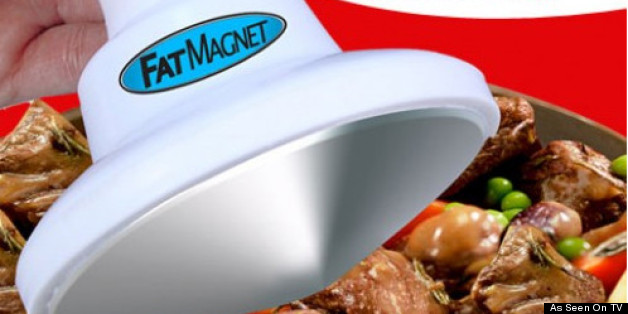 Some of us go to great lengths to shed a couple of pounds. Even us food lovers have fallen prey to this desire. We've given up our beloved carbs for a time, force fed ourselves half a grapefruit before every meal, and have even tried eating nothing but cabbage soup for two weeks straight. It's an intense sacrifice for a food lover to make, yet one that some of us (ahem, this food editor) have made in the name of vanity.
Luckily, as we grow older and wiser, the need to join in on these health fads passes. And rather than join them we can just chuckle at the things people are willing to try to slim down. But we cannot laugh at the Fat Magnet. The Fat Magnet has gone TOO FAR. It's one thing to swear off bread, but to take a normal dish -- one that's meant for people who like to eat food -- and to suck all the flavor (also known as fat) out of it is something we can't accept. The Fat Magnet must be stopped.
We hate this diet contraption out of pure principle, but the real kicker is the way it works. In order for it to attract fat solids from foods, you have to freeze it -- allowing the fat to harden on top -- and then you glide the Fat Magnet on top to remove the fat solids. By the way, you could also just do this with a spoon. According to the ad, it's perfect for stews, soups, gravies, chile and more. But we think it should only come in contact with your garbage can.
Want to read more from HuffPost Taste? Follow us on Twitter, Facebook, Pinterest and Tumblr.
Check out these other weird and totally unnecessary kitchen gadgets.
PHOTO GALLERY
Appliances You Don't Need
BEFORE YOU GO