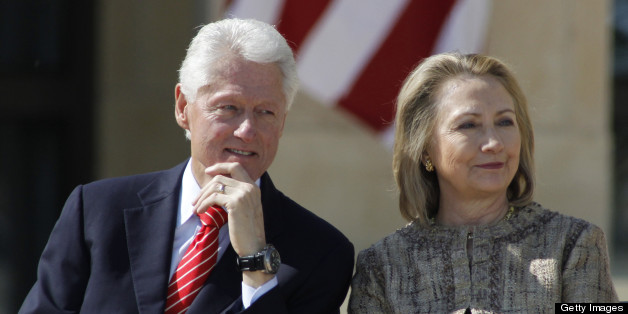 The William J. Clinton Foundation has a couple of new names on the door.
Hillary Clinton has officially joined her husband's organization, which was founded in 2001 with a mission to "improve global health, strengthen economies, promote healthier childhoods, and protect the environment." The couple's daughter, Chelsea Clinton, has also come aboard, and the enterprise will now be known as the Bill, Hillary and Chelsea Clinton Foundation, The New York Times reports.
Clinton's decision to put her power behind the Clinton Foundation answers the question of how she will focus her philanthropic efforts following her exit from the secretary of state post. Clinton "had been weighing whether to start her own foundation or join that of her husband, which is already well established and financed," The Times reported.
In September of last year, former President Bill Clinton said he had "no earthly idea" what Hillary Clinton would do after she left the secretary of state post. Then, in February 2013, Politico reported that the former first lady had signed on with the Harry Walker Agency to give paid speeches, with fees in the six-figure range.
Hillary Clinton's arrival at the Clinton Foundation also comes with a new hire. She brought on her longtime aide Maura Pally, who will act as executive director of Clinton's office at the foundation and "supervise Secretary Clinton's Foundation-related activities, exploring new opportunities and ways to leverage existing Foundation efforts," Clinton Foundation CEO Bruce Lindsey said in an email to foundation staff, according to Politico.
Whether she joined her husband's foundation or struck out on her own, pundits long expected Clinton to land somewhere in the realm of philanthropy after leaving the State Department.
After Clinton spoke with The New York Times in late 2012, columnist Gail Collins speculated that influencing the political conversation without holding public office could be Clinton's goal moving forward.
"If she really does drop out of politics and move on, this will probably be Clinton's future. Championing the cause of women, continuing her mega-listening tours around the globe, having serious conversations about issues of great import and minimal glamour," Collins wrote.
In addition to her work with the Clinton Foundation, one other piece of Clinton's future is certain -- her summer plans. The New York Times reported that according to local Hamptons publication Dan's Papers, the Clintons have rented an eight-bedroom oceanfront home in the Hamptons for a month this summer.
BEFORE YOU GO
PHOTO GALLERY
Hillary And Bill Through The Years