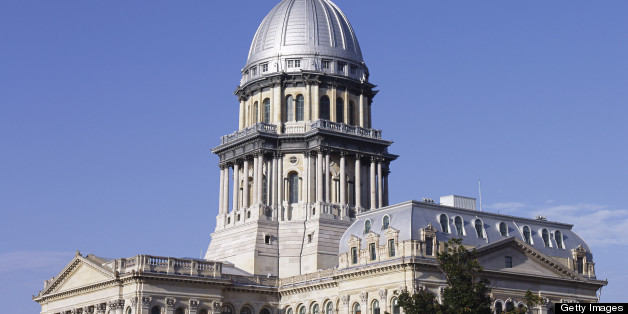 SPRINGFIELD -- Illinois lawmakers have less than 24 hours to resolve some big issues.
Today is the scheduled adjournment of the legislature's spring session. If past experience is an indicator, lawmakers could be casting votes with just minutes to spare as the clock approaches midnight.
Still unresolved are the issues of pensions, guns, gambling, fracking and gay marriage.
GUNS: On guns, one of the lead negotiators, Rep. Jerry Costello II, said this morning that a new compromise bill has been crafted. It would allow Chicago and home-rule communities to keep their assault-weapons bans.
A federal appeals court had ruled that Illinois' prohibition against carrying concealed weapons in public is illegal. The court gave the state until June 9 to fix the problem.
A previous concealed-carry bill, which passed in the House, included a provision that knocked down local ordinances on guns, including bans on so-called assault weapons. That provision is opposed by Chicago-area legislators. A bill with that provision would have been tough to pass in the Senate.
Costello, a Democrat from Smithton, said the new compromise will include language that "grandfathers" existing gun ordinances in home-rule cities.
Another change, he said, is that military experience and a hunter-safety course will count toward the 16 hours of training required for a concealed-carry permit. The 16-hour requirement is the highest in the nation. Costello said he "really fought hard" to get the military credit, which counts as eight hours.
GAY MARRIAGE: The House has not yet called for a vote on a gay marriage bill that cleared the Senate in February. Word is that the vote total is close in the House.
Supporters of gay marriage on Thursday began ramping up pressure on House Speaker Michael Madigan, a Chicago Democrat, to call the bill for a vote.
FRACKING: The House on Thursday evening approved a bill that allows high-volume oil and gas drilling, also known as fracking. The Senate is expected to pass it today.
PENSIONS: The Senate on Thursday evening rejected a Madigan-backed plan. Some senators said the proposal isn't likely to survive a court challenge.
Some senators prefer a plan offered by Senate President John Cullerton, a Chicago Democrat. His plan is backed by unions.
GAMBLING: The odds of passage appear to be getting worse for a bill that would expand gambling in Illinois.
The bill would create five new casinos, including one in Chicago. But it's questionable whether the plan will be supported by Gov. Pat Quinn, who has vetoed previous expansion attempts.
The measure would add more gambling positions at existing casinos and would allow slot machines at horse-racing tracks, including Fairmount Park in Collinsville. ___