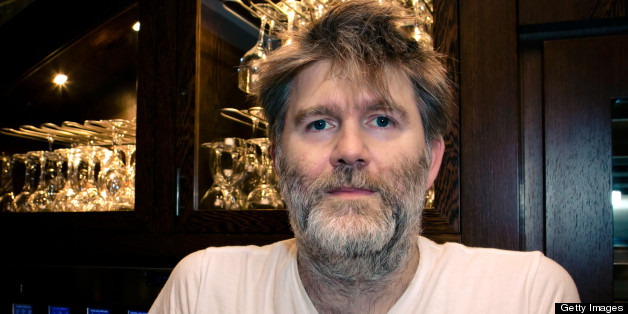 James Murphy has a new soundsystem with which to occupy himself.
Fresh off celebrating his own DFA Records' 12th anniversary at an outstanding, three-stage Red Bull Music Academy concert event in Brooklyn, the former LCD Soundsystem frontman is debuting a new speaker set up for Despacio, a three night club event running July 18 to 20 as part of the Manchester International Festival.
The speaker stacks -- which Murphy designed with John Klett, who built the DFA Records studio -- will be arranged in circle and will maximize the richness of vinyl. Unsurprisingly, Murphy is a bit of a vinyl purist, and he and David and Stephen Dewaele (Soulwax/2ManyDJs) will only play records they have on wax. The party, which is framed as an alternative to Ibiza, is thus going to be a bit of a challenge. "If I don't have it on vinyl, I can't play it," Murphy told the Guardian. "The idea will be to take chances without forgetting the principal thing about DJing: making a fun time for people."
Despacio's speakers and vinyl-only mandates are a reaction to the over-compressed, super intense sound clubgoers are now used to experiencing. Club set ups that provide that type of audio don't interest Murphy, who says they are "tinny, sad, hyper-aggressive." "They don't sound beautiful," he added. "If you play certain dance music, great. But if you play jazz or AC/DC, they sound terrible."
Murphy disbanded LCD Soundsystem when the band was still at or near the top of the indie music world. Since then, it seems he's taken to DJ'ing as a way of returning to the parties he used to spin before starting DFA. "If you have a program that helps you mix every song, why would you ever not mix?" Murphy asked. "I played at this thing the other day... there were people there that seemed almost too excited, like I had done something very creative or crazy. I was like, 'It was literally a bunch of fucking songs, dude'. I don't think I did anything exceptional. But what it wasn't was the guy with a computer playing a seamless, pre-programmed festival set, with no adjustments for the crowd, who, at the moment they're supposed to get excited, throw their hands in the air, but in between look kind of listless. That, to me, is really sad."
That criticism -- which is primarily aimed at electronic dance music -- echoes what Murphy told HuffPost Entertainment last year. "It doesn't suck, it's just that large masses of people are usually stupid by nature," he said. "That's usually the nature of large groups of people. But festivals can be really fun and really surprising. I always had a better time when it was just bands and people really didn't know what to do. But the new thing with that is that they are adrenaline junkies and they want a giant light show and explosions and they want to stand there and watch you and do this [fist pumps]. And it's not a sporting event. It's not a show. That's not what I do."
As for why he's DJ'ing so much? "It's my job now," Murphy explained. "It really is -- people ask me why I'm DJ'ing now, and it's my only job. I'm building a house. I got to pay bills. We're long past the time of bands my size retiring. When people sold hundreds of thousands of records, sure, you could retire."
For more, head over to the Guardian.
BEFORE YOU GO
PHOTO GALLERY
Summer Movie Preview 2013