Marc Quinn may have a thing for pregnant ladies. His inflatable sculpture depicting a pregnant Alison Lapper, the disabled British artist, presides like a 35 ft. tall goddess at the Venice Biennale. The statue, which is a remake of Quinn's 2005 marble version in London, received a bit of heat from the Catholic church.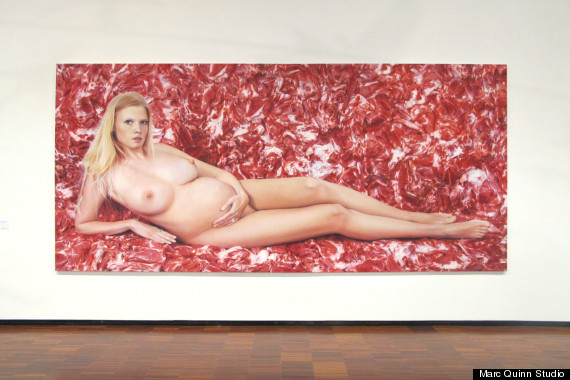 Marc Quinn's "The Way Of The Flesh," 2013.
This month, Quinn revealed a second pregnant woman in Venice with "The Way of All Flesh." His provocative portait features Dutch model Lara Stone before she gave birth this May. The curvaceous nude reclines on mounds of raw meat. Quinn's emphasis on fleshy reality juxtaposes the idealized supermodel with the physicality of birth and the pregnant body.
What do you think of Quinn's portrait of Laura Stone? Let us know in the comments below, and scroll through the slideshow below to see more goings on at the Venice Biennale.
BEFORE YOU GO
PHOTO GALLERY
Venice Biennale