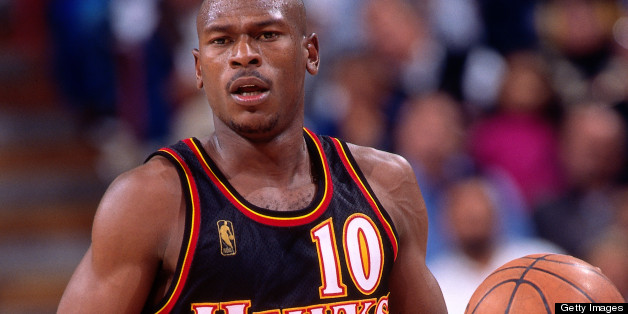 Former NBA point guard Mookie Blaylock was critically injured in a serious car accident on Friday and is on life support, according to the Atlanta Journal-Constituion.
Jonesboro police Chief Franklin Allen told The Atlanta Journal-Constitution that Blaylock's vehicle crossed into oncoming traffic on a highway in Clayton County, Ga., triggering a head-on collision with another vehicle. Two people in that car were also reportedly transported to a hospital.
Authorities told MyFOXAtlanta that Blaylock was unresponsive at the hospital and described a female passenger in the other vehicle as being in "extreme critical condition."
The accident took place at approximately 1:15 p.m. EST, according to CBS Atlanta.

Blaylock, who spent seven of his thirteen NBA seasons with the Atlanta Hawks, retired following the 2001-2002 season.
MORE FROM THE ASSOCIATED PRESS:
JONESBORO, Ga. (AP) — Police say former NBA All-Star guard Daron "Mookie" Blaylock is on life support after a car crash in suburban Atlanta.

Clayton County police spokesman Clarence Cox says Blaylock was driving in Jonesboro Friday when his SUV crossed the center line and hit a van head on.

Cox says Blaylock was airlifted to the Atlanta Medical Center where he was in critical condition Friday night.

Cox says the man and woman riding in the van were also taken to the medical center. Their names and conditions were not immediately available.

The 46-year-old Blaylock was a first-round draft pick by the New Jersey Nets out of Oklahoma in 1989. He played for the Atlanta Hawks between 1992 and 1999 and the Golden State Warriors for the last three seasons of his 12-year career.
UPDATE 8:50 p.m. ET: The Atlanta Journal-Constitution reports that Blaylock's condition improved on Friday evening and he was in stable condition. Per the AJC, a family member told police that Blaylock had been treated for seizures.