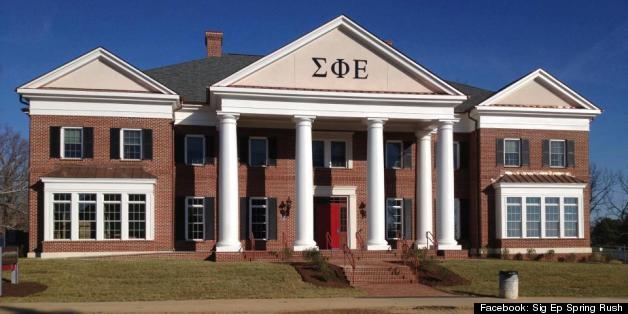 The Sigma Phi Epsilon fraternity at Virginia Tech has had its charter revoked due to multiple student conduct violations. But the real loss may be the frat's almost new $5 million house located adjacent to a golf course.
The university owns the frat house, having paid $3 million to help construct it, and it will now take possession. Current members of Sig Ep who lived in the house will have to find new housing by the fall semester.
A video tour of the frat's lavish former home was available on Vimeo, but the user has apparently made the video private; Total Frat Move has some notes on the house's features, including a fireplace and an elevator.
Virginia Tech spokesman Mark Owczarski cited the fraternity's "ongoing history of alcohol and hazing violations" in explaining the decision to shut down the chapter to the Roanoke Times.
The Sig Ep chapter was suspended by the university after a formal hearing in February, the Collegiate Times reports. But members did not shape up, with some students cited for underage alcohol consumption, public intoxication, theft and vandalism. The fraternity's charter was revoked this week, and the chapter at Virginia Tech is no longer recognized by the university or national Sig Ep leadership.
Members of the Sig Ep house were accused of stealing from other frats, forcing pledges to drink vodka until they puked and damaging the interior of their new multi-million dollar home, WDBJ reports. A tipster told Total Frat Move the Sig Eps also "hired porn stars to strip for them using chapter funds."
In a statement, Sig Ep executive director Brian Warren said the Virginia Tech chapter had failed to improve.
"For the past two years, fraternity staff members and local volunteers have been working to effect change, with little response from undergraduate members," he said, insisting revoking the frat's charter was the only option.
Alumni promised in a letter to push to reestablish the chapter at Virginia Tech.
"In the immediate future, we will begin to prepare for the chapter's return to campus and strengthen our network of alumni support," the letter said. "We must ensure our investment in the chapter house is protected for future brothers by completing our capital fundraising campaign and honoring the financial commitments we have made to Virginia Tech."
BEFORE YOU GO
PHOTO GALLERY
11 Best Frat Houses