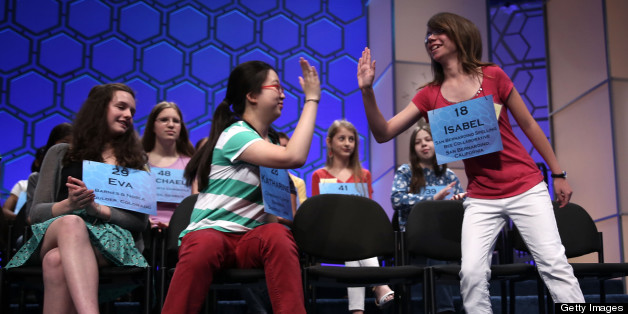 With confetti falling all around him, Arvind Mahankali hardly cracked a smile. After coming close in three previous trips to Scripps National Spelling Bee, he had finally won. Yet, there he stood in the first moments after his triumph, looking s-t-o-i-c.
The 13-year-old's tempered celebration capped an otherwise emotional few days for the 281 contenders in the 86th edition of the National Spelling Bee. As always, the candid reactions of the spellers competing for that over-sized cup were at least as much of a draw as the incredible displays of knowledge and reasoning.
"First of all, most of them haven't yet learned how to hide what they're thinking, much less how they feel, under nationally televised pressure," wrote Silvia Killingsworth of The New Yorker, explaining why she finds the event so compelling. "It is said of the best athletes that they make their skill look effortless, but in the spelling bee, there's all kinds of trying on display."
Along with the apparent mental effort, there was fellowship (frequently in the form of high fives), euphoria, grace, empathy and the inevitable sadness of defeat on full display right alongside the formidable talents of all the competitors.
Here are 40 images that capture the powerful and unadulterated emotions of the Scripps National Spelling Bee:
PHOTO GALLERY
Best 2013 Spelling Bee Photos
BEFORE YOU GO