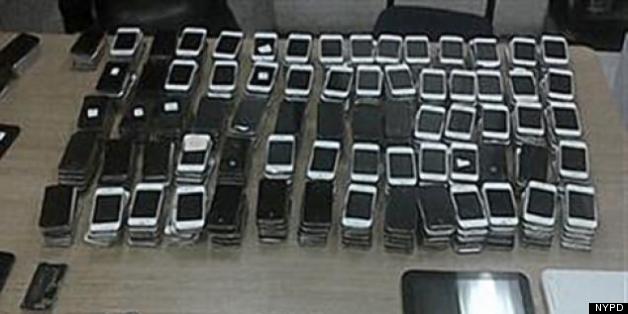 The NYPD recovered a giant stash of stolen Apple products from a Queens apartment Wednesday, The Daily News reports.
After stopping a vehicle on 168th Street in Fresh Meadows, two officers were tipped off by the passengers to a nearby residence where they'd been trying to pawn off some iProducts.
When the cops went to the residence, home to three college students, they spotted a gun and a bag of marijuana. After returning with a warrant, they found what NYPD spokesman Paul Browne later called a "virtual orchard of Apple products": 443 iPhones, 20 iPads, 11 iPod touches and more than $9,000 in cash.
The gun turned out to be an imitation pistol.
CBS reports Adam Jaffer, William Chen, and Justin Pinder were arrested and charged with "trademark counterfeiting, criminal possession of stolen property, criminal possession of a weapon and unlawful possession of marijuana."
One out of every seven crimes in New York City involves an Apple product.
PHOTO GALLERY
NYPD Recovers Stash Of Stolen Apple Products
BEFORE YOU GO