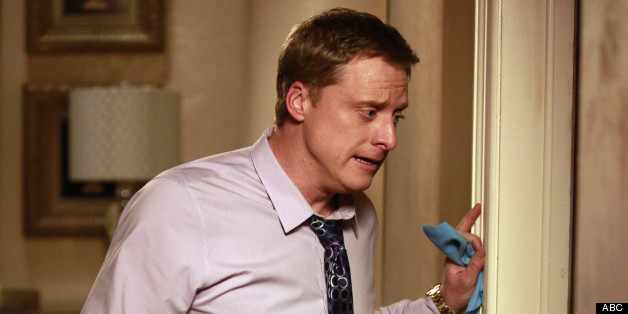 "Suburgatory" will look very different when it returns for Season 3, with Deadline reporting that regulars Alan Tudyk and Rex Lee have not had their contracts renewed for next season. We hear that there is a possibility that the two could return as guest stars.
The comedy's renewal was reportedly a last-minute decision for ABC and came with a reduction in the license fee, which means the producers have to find ways to cut costs -- which, for an ensemble comedy, sadly means trimming the cast.
According to Deadline, there may be further cuts or demotions from regular to recurring status ahead; stars Jane Levy, Jeremy Sisto, Cheryl Hines, Carly Chaikin, Ana Gasteyer and Allie Grant are the show's remaining regulars.
Both actors have been with the comedy since the pilot, with Tudyk playing Noah Werner, the extravagant best friend of Sisto's character George, while Lee portrayed high school guidance counsellor Mr. Wolfe, who often interacted with Levy's Tessa.
Because Malin Akerman's ABC comedy, "Trophy Wife," was also picked up to series, don't expect to see much of Tessa's mother, Alex, in Season 3 either. Creator Emily Kapnek recently told The Huffington Post that she had a contingency plan "depending on Malin's availability and whether we get to write to her or not," with a potential storyline that could've expanded on Tessa's relationship with her mother. Instead, the show will likely refocus on Tessa's relationship with her father, George, a dynamic that Kapnek described as "the heart of this show."
"Suburgatory" will likely return midseason on ABC.
Will you miss Tudyk or Lee? Weigh in below!
PHOTO GALLERY
ABC's New Shows 2013-2014
BEFORE YOU GO