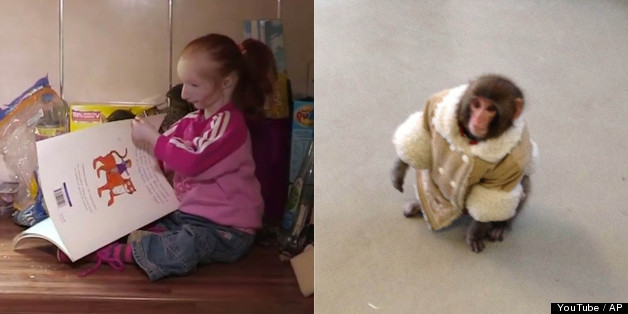 This was a week where small things grew into big stories.
Take Charlotte Garside, who, at 5 years old, is nearly 27 inches tall and only weighs 9 pounds due to a rare disease.
It warmed our hearts to hear her mother tell the media that despite Charlotte's extreme size, she lives as normal a life as possible, going to school and riding horses. Good luck to Charlotte and her family!
Then there's Yasmin Nakhuda and her pet monkey.
A little monkeying around at an Ikea in Toronto created a big headache Yasmin Nakhuda. She went ape last December after authorities confiscated her pet monkey after he was spotted wandering the furniture store's parking lot. Now the case is headed to court and the weird news world is going bananas.
Another animal who made his mark this week was the small bear who got stuck in a tree near the North Carolina A&T State University campus in Greensboro.
HuffPost Weird News ace reporter Andy Campbell kept his eye on the story with a gripping live blog until the climactic moment that the bear scrambled out of the tree.
A bear was also in the mix for a weird story dug up by Lee Speigel. It seems John Winesickle, a resident of Paint Township in Pennsylvania's Somerset County, called 911, claiming to have conclusive proof of Bigfoot.
We hate to break it to Winesickle,, but authorities think those footprints actually belong to a bear.
And then there were the people who acted like downright animals as well.
Over on Los Angeles' Hollywood Blvd., where people dressed up as superheroes got into a brawl over how to make money off tourists in the area.
Abel Simmons, 29, of Stockton, Calif., fought off a carjacker by using several moves he learned watching Ultimate Fighting Championship fights.
Meanwhile, Monica and Jessica Sexxxton, a mother-daughter porn duo, are hoping to take their controversial sex website to new levels in smutby shooting a scene with a father-son team. Sounds like a x-rated version of the Brady Bunch.
Talk about going to another level! How about Russian daredevil Valery Rozov, 48, who reportedly set a world record for highest BASE jump when he leaped from Mount Everest -- from a point 7,220 meters (about 23,688 feet) above sea level.
Good news from the lost-and-found department. A missing man in Limington, Maine was found Tuesday morning by the very news crew reporting on his disappearance.
Finally, Kaitlyn Booth, 17, of Columbia, Mo., allegedly attempted what she thought was a funny school prank when she changed Raigan Mastain's last name in the Hickman High School yearbook to "Masturbate." She's not laughing now. Officials are considering felony charges.
What was the week's weirdest story? Check out the gallery and then select your choice in the poll below.
BEFORE YOU GO
PHOTO GALLERY
Weird News Top 10 (May 27-June 2)