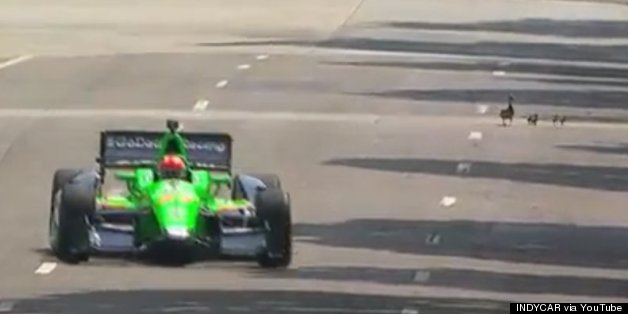 Just call us Motor City jocks. It was a busy week for spectators in Detroit, and the sad end to the Red Wings season isn't the end of a sporty summer.
On Tuesday, Detroit partied: organizers of the bid to bring the Summer X Games to the city threw a major blowout to wow ESPN reps in town. True to form, it included plenty of extreme sports action. It was also the kick-off of the Detroit City Futbol League's season, with their own big party at St. Andrews. Speaking of soccer, minor league team Detroit City FC won 4-1 Friday against FC Sparta Michigan, bringing their winning streak up to four. Congrats, guys!
Wednesday was more of a downer: we were crushed when the Chicago Blackhawks defeated the Red Wings in Game 7 during overtime. But there was still the weekend to look forward to, with long hours of races at the Belle Isle Grand Prix.
The weekend also brought news of Grant Hill's retirement. It's been many years since he was Rookie of the Year during his first season with the Pistons, but the '90s picture will bring you right back.
And of course, right as the rain, there was baseball, baseball and more baseball, complete with a bit of romance.
Lest you think we're too one-track minded, our roundup of best photos of the week isn't limited to sports: we've got art, history, politics and, of course, cute baby ducks. Look below for the fuzzy family, also known as the most adorable Grand Prix spectators, as well as a blast from Romney's past, a fire-breathing dragon and more.
And as always, make sure to send your own best photos and videos to the HuffPost Detroit editors by email or Twitter.
PHOTO GALLERY
Best Of Photos And Video In Detroit This Week
BEFORE YOU GO