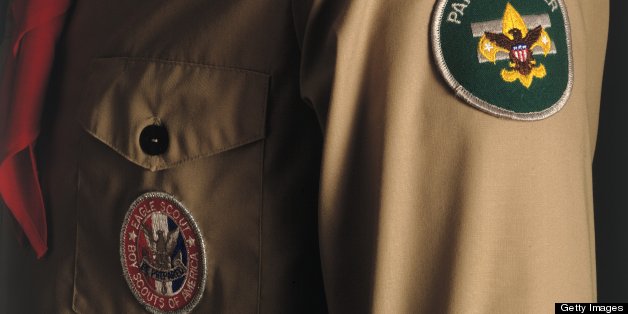 For many local Boy Scout leaders, lifting the ban on admitting openly gay boys as Scouts felt like the right thing to do.
But moving forward could have its challenges, several told the Times-Herald.
"The biggest concern is how to get everybody together on this," said John Fenoglio, executive of the Mt. Diablo Silverado Council, which has more than 14,000 Scouts in Contra Costa, Solano, Lake, Napa and northern Alameda counties. "It was a very divisive issue. People had strong opinions on both sides."
About two-thirds of the council's members support the change, according to a survey the group conducted in February. More than 2,100 people responded. But about 30 percent indicated that they would leave the Scouts if they disagreed with the membership policy.
Many Scout leaders are crossing their fingers that that doesn't happen. As of Friday, Fenoglio said there had been no mass defections.
"For some parents, this is going to be a pill they can't swallow," said one former Benicia scoutmaster, who preferred to remain anonymous. "That could adversely affect scouting."
Meanwhile, 80 of the 99 Scouts who responded as part of the regional survey indicated they will support the inclusion of gays.
The BSA's National Council voted on May 23 to lift the ban. The proposal was supported by about 60 percent of the national council's 1,400 voting members. It will take effect on Jan. 1, affecting about 116,000 Scout units.
Fenoglio said a national BSA task force is looking into a variety of issues related to implementing the new policy. It is expected to make recommendations by the fall, he added.
Vallejo Troop 77 scoutmaster Charles Speir said he doesn't think the new policy will change the Scouts' mission. He also said he doubts that many Scouts will be too concerned about their peers' sexuality because it's a topic that rarely comes up.
"Most Boy Scouts are middle schoolers," he said. "It is not something we would talk about because there is nothing about it in the Scout handbook ... it is not something you would teach or learn about through scouting."
Others, however, said they are uncomfortable with the change.
"For me, it seems to be going against how scouting was set up," said Vallejo resident Angie Montez, both of whose sons became Eagle Scouts. She added that her personal beliefs stem from her Christian religion.
Montez said she still will support the Scouts, even though she said she disagrees with the leadership's decision and fears it could lead to openly gay leaders.
"Regardless of who you are ... everyone is going to benefit from scouting," she said. "I wish more boys were going into it."
Her youngest son, 19-year-old Eagle Scout Isaiah Montez, said that even though he disagrees with the change, he plans to volunteer at a Boy Scout camp this summer.
"I don't support it, but it's still an organization that supports fundamental skills and learning so that (members) have it for the rest of their lives," the 2012 Vallejo High School graduate said.
But he added that he fears the policy change could lead to awkward and difficult conversations about sexuality with boys as young as 11 and 12 who are just entering the Scouts.
"It will put them in situations that they are not comfortable with or have learned about, because they are at that age," he said.
Benicia Scout leader Greg Savage said he had that conversation with some of the boys in his Church of Jesus Christ of Latter-day Saints-sponsored troop last weekend during a backpacking trip to Henry Coe State Park.
Savage said he told the boys that the change in policy would not alter the troop's core focus of helping others. To his surprise, he said most of the boys, ages 12 and 13, didn't seem to care.
"They just seemed, like, 'Yeah, OK,' " Savage said. "It didn't seem to be a problem to them."
While a number of churches across the country have announced they are severing ties with the Scouts, the LDS church issued a statement saying it will continue to sponsor troops.
"When I saw the church statement I was really excited," Savage said. "Because it meant there is really no change in how we sponsor scouting."
Other leaders are more tightlipped about the change as they wait to see where the fallout lands. John Lovett, scoutmaster for Benicia's Troop 8, which meets at the city's community center, said the change would not affect how the 55-member troop functions. He then deferred further comment to council's leadership.
The former Benicia leader who spoke on the condition of anonymity, however, told the Times-Herald that the troop hasn't been enforcing the bans on gay youth and adults. He added that the troop, sponsored by the Benicia Lions Club, previously assured city officials behind closed doors that it would not discriminate in exchange for getting basically free rent at the community center that opened two years ago.
"Personally, we don't really care," he said. "We don't enforce it anyway. It hasn't come up."
He added that he hopes the BSA takes the further step of allowing gay adults to serve as leaders.
"There are a lot of gay people in the Bay Area who are good people who would be sought out to be involved with us," he said. "It is not really an issue. That is the next step."
Contact staff writer Tony Burchyns at tburchyns@timesheraldonline.com or (707) 553-6831. Follow him on Twitter @tonyburchyns. ___
BEFORE YOU GO
PHOTO GALLERY
Key Events In The Boy Scouts' Gay Ban