Unicorns are taking over The Metropolitan Museum of Art -- the institute's Hudson River haven, The Cloisters, to be exact.
Artworks devoted to the mystical creatures are being unearthed for the New York landmark's 75th anniversary, a celebration that will shine a spotlight on the fascinating collection of Unicorn Tapestries housed deep within in the medieval-looking building. The exhibit, "Search for the Unicorn," endeavors to survey over 2,000 years of art and lore inspired by the equine beauties, showcasing everything from dishes and textiles to decadent paintings and manuscripts.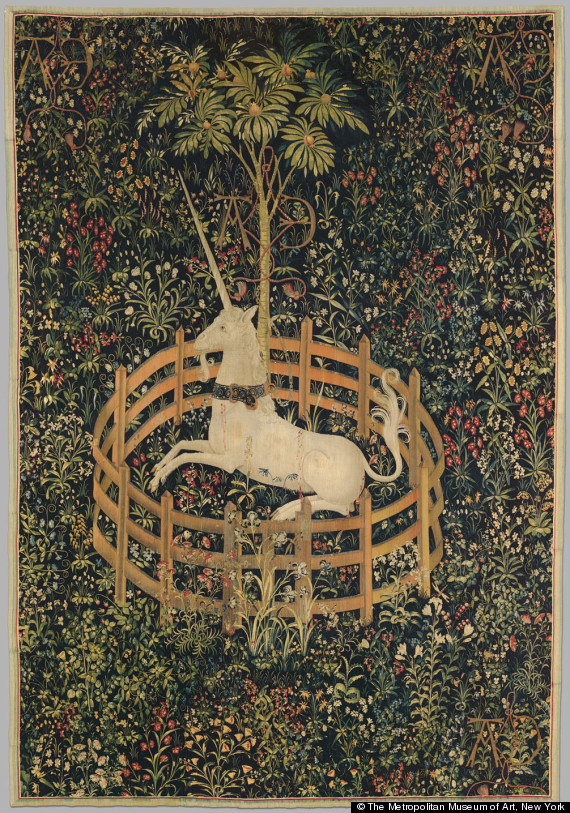 The origins of The Cloister's Unicorn Tapestries -- gorgeous masterpieces that depict detailed, often violent scenes of horned horses -- are as mysterious as the mythic beings themselves. According to the Financial Times, the curious pieces made their way from France to the United States via the Rockefeller Family in the early 1920s, equipped with the initials "A" and "E", which were perhaps a nod to an unknown author or former owner. Whether the textile unicorns were created to represent romantic love, feminine mystique or even Jesus Christ, their true meaning remains elusive.
Other alluring artifacts on display include a pair of narwhal tusks (specimens that appear all too similar to the horns of their fictional brethren), coins adorned with images of unicorns, and a series of books illuminating the medicinal value of the wild beasts. Scroll through the images below for a peek at some of the other works in "Search for the Unicorn," on view at The Cloisters until August 18, 2013. Let us know what you think of the whimsical exhibit in the comments.
PHOTO GALLERY
Search for the Unicorn