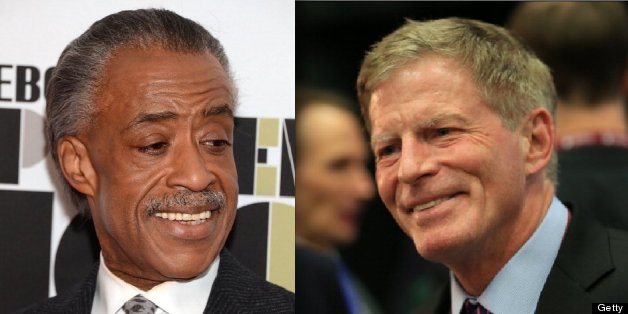 In a scathing column for The Daily Beast, Stuart Stevens, former Chief Strategist for Mitt Romney's failed presidential bid, laid into NBC executives and Al Sharpton Monday.
Leveraging The New York Times and RetroReport's recently released documentary on 1987's Tawana Brawley case, and citing what he describes as Sharpton's "outrageous history of hate," Stevens criticizes NBC executives for hiring Sharpton and promoting his nightly news program "PoliticsNation".
The Tawana Brawley case grabbed national headlines throughout 1987 when the then 15-year-old claimed she had been beaten and raped by six white men. Brawley's team of advisors, which included Sharpton and lawyers C. Vernon Mason and Alton H. Maddox, continued to keep the case in the national spotlight until, after months of investigation, the incident proved to be a hoax.
In the documentary, Sharpton admits he learned a great many lessons from the case stating, "I think that we, and certainly I, learned how to be more cautious going forward."
But this contrition apparently isn't enough to quell Stevens' criticism. Furthering his point that Sharpton is unfit to present the news, he goes on to say:
And today one of the great American news organizations, NBC News, is spending millions of dollars to rehabilitate and promote Al Sharpton. Americans have been pretty good at sniffing out and discarding haters, but here is Al Sharpton on NBC and MSNBC being promoted as a credible source of information. Sharpton has gone from manipulating the news with vile accusations to delivering the news for NBC.
Stevens criticism of Sharpton as a poor source of news and information may come as a surprise to many. Stevens himself was widely lambasted for his reductive redefinition of the middle class in an op-ed for the Washington Post last year, after his candidate, Romney, was trounced in the 2012 presidential election. He also received criticism for standing by the Romney camp's misleading campaign spot that claimed Barack Obama "sold Chrysler to Italians who are going to build Jeeps in China," -- an ad that won the dubios title "Lie Of The Year" by Politifact.
BEFORE YOU GO
PHOTO GALLERY
The Tawana Brawley Case