Leave it to Christina Hendricks to be radiant and charming wherever she goes, even if she's just trying to get a quick drink.
The "Mad Men" star is spending her days in Detroit filming the Ryan-Gosling-directed "How to Catch a Monster." But she managed to take a break from the action Saturday night to head to Cafe D'Mongo's Speakeasy, an eccentric and beloved bar downtown, with costars Saoirse Ronan and Iain De Caestecker.
Livonia resident Micah Santos organized the KALAYAAN event celebrating the Philippines, part of the "Crossroads of Culture" series of monthly parties at the bar. Santos said Hendricks, who looked casual chic in an ombre denim shirt and flowery skirt, showed up with her coworkers around 11 p.m. They stayed for about an hour, and asked to speak to owner Larry Mongo, who was unavailable.
According to Santos, the group was friendly, laid-back and nice to fans.
"They took photos with anyone who asked and spoke with whoever approached them," he said. "Saoirse even photo-bombed my friend Eian in one of those photos, so she seemed to be in a playful mood."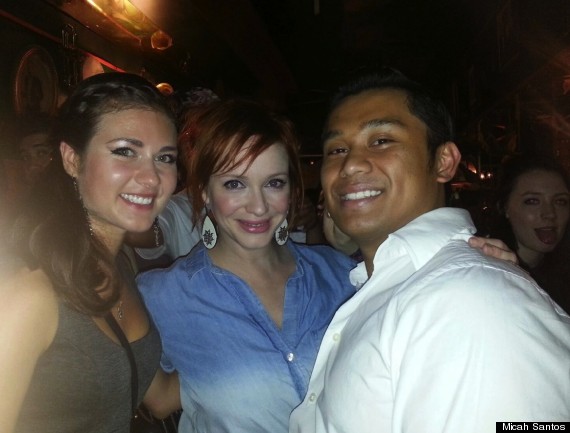 Photo courtesy Micah Santos.
Though Santos said he had to do a "double take" when Hendricks walked by, perhaps he shouldn't have been surprised. The bar seems to be a favorite of Gosling's, he previously came to the city for Mongo's birthday and may be giving the charismatic barkeep a part in the film. And Hendricks was previously seen around town at Mudgie's Deli -- though it's a local favorite, it's a pleasant surprise to see a Hollywood starlet down-to-earth enough to take her lunch at a sandwich shop.
Hendricks recently told Esquire magazine that Detroit was "unlike any American city" she's ever been to.
"It's a bit shocking when you first get here, but then you just discover all these great little gems about the city," she said.
She also heaped praise on Supino Pizzeria in Eastern Market:
"I think I might have had the best pizza I've ever had in my life the other day at Supino. It kind of blew my mind," she told the magazine.
We have to agree, and we're glad Hendricks is taking the time to discover Detroit's gems.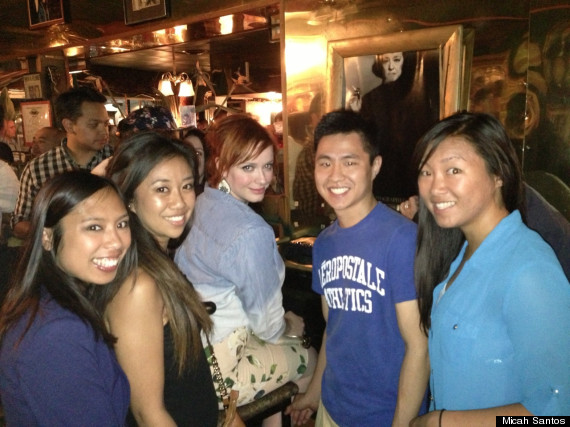 Christina Hendricks poses for a fan's photo at d'Mongo's Speakeasy Cafe in Detroit. Photo courtesy Micah Santos.
Written by Gosling, "How to Catch a Monster" also stars Eva Mendes, Matt Smith and Ben Mendelsohn. The dark, otherworldly fantasy follows Hendricks' Billy, a single mother who works at a fetish club who is swept into a macabre underworld.
Though Gosling and Smith were nowhere to be found Saturday, they've been spotted filming around town. If you're lucky enough to make the acquaintance of the stars while they're in Detroit, send any respectfully taken shots to your HuffPost Detroit editors.
PHOTO GALLERY
Christina Hendricks' Style Evolution