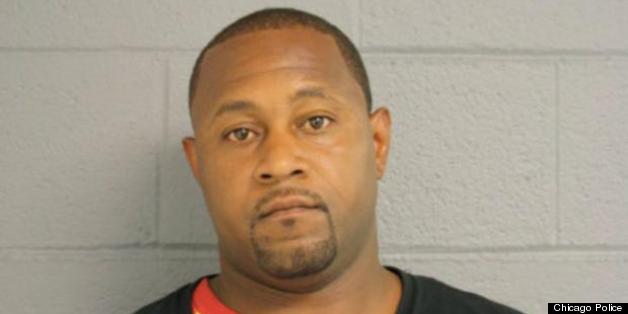 A Chicago man is facing felony animal cruelty charges after he allegedly beat his neighbor's pitbull puppy and killed its mother after one of the dog's ripped his t-shirt.
Damien Wilkerson, 34, of the city's South Austin neighborhood is being held on $80,000 bail following the Saturday incident in the 700 block of North Pine Avenue, the Tribune reports.
"The dog tore my shirt," Wilkerson allegedly told police. "This s--- was $3.78."
Wilkerson allegedly admitted his crime to police when they came to arrest him after finding a dog dead in an alleyway trash can, the Sun-Times reports. "Yeah," Wilkerson allegedly told police. "I killed that f---ing dog."

Police say the self-admitted Cicero Insane Vice Lord was standing over his fence when one of the dogs in the yard ripped his shirt, according to DNAinfo Chicago. That's when Wilkerson admitted he hopped over the fence and started to beat one of the dogs with a milk crate.
"There were two dogs," Wilkerson later told the officers, according to police reports. "One was a puppy who ran away, and the other dog, yeah, I killed him." Wilkerson beat the dogs with rocks, sticks and the milk crate before stabbing the elder dog dead.
"I ain't gonna let no dogs or no n---ers punk me," Wilkerson allegedly told police according to the Sun-Times.
BEFORE YOU GO
PHOTO GALLERY
10 Worst States For Animal Abuse Laws