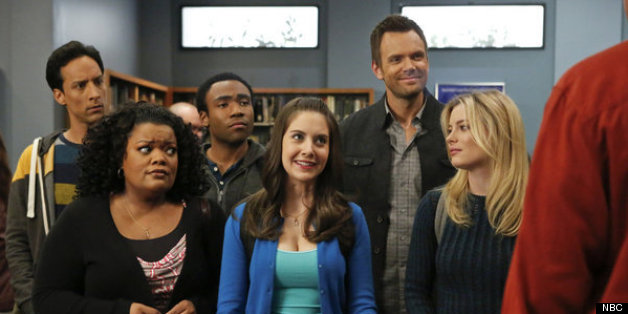 Dan Harmon hasn't seen "Community" Season 4.
According to The Hollywood Reporter, Harmon revealed to a crowd that he has not kept up with the Greendale Human Beings since he left the series.
"I have not seen the fourth season yet," Harmon told an audience at L.A.'s Silent Movie Theatre, where he was co-hosting an event. "I swear to God."
"Sony said they're very interested in recording me watching it as a commentary track," Harmon told the crowd at Los Angeles' Silent Movie Theatre about the "Community" Season 4 DVD. "I think I can do anything ... It would move Season 4 DVDs, for sure. But I'll be checking it out soon, and then I'll figure out what we're doing for Season 5."
Harmon confirmed his return to "Community" Saturday on Twitter.
RT @dpeanutbutter: @danharmon GIVE US A STRAIGHT ANSWER! ~ Yes yes yes!I'm back I'm back I'm back.You can thank @joelmchale.

— Dan Harmon (@danharmon) June 1, 2013
Curse you, Matt Smith.I haven't been this unfairly upstaged in the news since my Fall 2001 Atkins Announcement.

— Dan Harmon (@danharmon) June 2, 2013
Harmon said he was fired from "Community" after Season 3. Before his exit, the show made headlines with reports of Harmon's feud with star Chevy Chase. David Guarascio and Moses Port replaced Harmon as showrunners for Season 4 of "Community" and Chase left the series while filming Season 4. Harmon is returning to the series with his co-showrunner Chris McKenna and said the show is in search of a writing staff.
"If any of you are a midlevel writer that doesn't work for 'Parks and Rec,' let me know that you exist and I would love to hire you," Harmon told the crowd, according to THR. "Because this city has been picked clean by every show already, and right now we have to put a staff together."
"Community" is not on NBC's fall schedule, but will return for a fifth season.
PHOTO GALLERY
2013 Renewal Index: Canceled, Renewed & On The Bubble Shows
BEFORE YOU GO