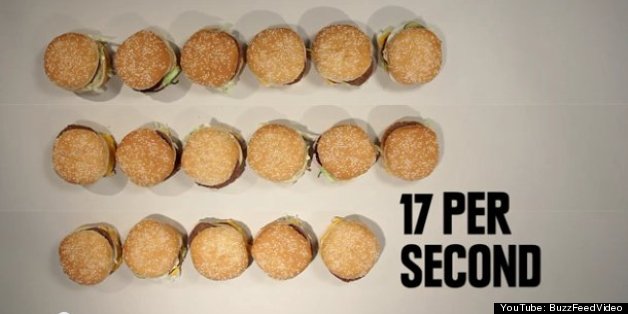 We know that Americans are eating a lot of fast food -- in fact, six of the 10 most visited businesses in the U.S. are quick service restaurants. BuzzFeed broke down similar fast food data even further to determine how much fast food is getting consumed every second.
The results are alarming, to say the least. Seventeen Big Macs are sold every second, which means McDonald's sells at least two burgers each time you blink. KFC has McDonald's beat, though. Twenty-five pieces of "Original Recipe" chicken are sold each second. That's six pieces sold every time you breath.
We're going to go eat a salad now.
WATCH:
BEFORE YOU GO
PHOTO GALLERY
High Calorie Chain Meals