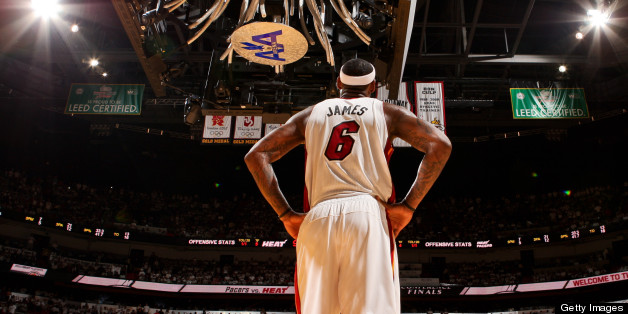 2013 NBA Eastern Conference Finals
Game 7
Miami Heat
vs.
Indiana Pacers
AmericanAirlines Arena - Miami, Fl.
8:30 p.m. EST
June 3, 2013
After all of the chaos -- Paul George's clutch shot, LeBron's buzzer beater, the flopping and the profane press confereces -- the Miami Heat and Indiana Pacers meet one more time in Game 7 to see who will take on the rested San Antonio Spurs in the NBA Finals.
"Each and every year there are 30 teams that would love to be a part of this, to have one game to advance to the NBA Finals," James said before the final game of the Eastern Conference finals, via the Associated Press. "And there's two teams that's in this position. And it's something that you can't substitute, this feeling. You can't substitute the atmosphere that we're going to be in on Monday night for both teams. We should all cherish this moment."
While James has been in MVP form during the postseason, he hasn't had much help from the other two members of Miami's Big Three in recent games. LeBron has outscored Dwyane Wade and Chris Bosh combined four times against Indiana and the Heat are just 1-3 in those games.
Will Roy Hibbert, David West and George be able to shut down Miami one more time? Or will LeBron lead the Heat to the NBA Finals for the third year in a row?
Scroll down for live updates.
06/03/2013 11:22 PM EDT
Since The Decision, Heat have won every playoff series in which they didn't mock Dirk for having a cold.

— Henry Abbott (@TrueHoop) 6 years ago
06/03/2013 11:20 PM EDT
Hansbrough's begrudging "handshake" with Andersen, who sought him out, was interesting to say the least. Tyler was there under protest

— Brian Windhorst (@WindhorstESPN) 2 years ago
06/03/2013 11:19 PM EDT
GAME OVER
Game 7 is over. Heat win 99-76. Heat are back in the finals for the third straight year.
06/03/2013 11:15 PM EDT
LeBron is averaging 33.8 PPG in Game 7s in his career, the highest average among all players with at least 2 games played.

— ESPN Stats & Info (@ESPNStatsInfo) 3 years ago
06/03/2013 11:13 PM EDT
Boring Scuffle
Jeff Pendergraph and Norris Cole suddenly went at it with some physical play. Pendergraph shoved Cole, both jawed at each other and both were ejected. They're still talking to each other. Cole didn't do much to get ejected. Spoelstra just walked up to the ref and while laughing, asked "What did Norris Cole do?" Then he laughed at the ref's explanation.
06/03/2013 11:09 PM EDT
Officials now setting up a rope perimeter for the Eastern Conference championship trophy celebration. Yes, there actually is such a thing.

— Ira Winderman (@IraHeatBeat) 4 years ago
06/03/2013 11:07 PM EDT
Birdman was hunting wild hogs in January. Thursday he'll be in the Finals.

— chris palmer (@ESPNChrisPalmer) 4 years ago
06/03/2013 11:04 PM EDT
Dwyane Wade with his first 20-point game since April 23. Timing was impeccable.

— Brian Windhorst (@WindhorstESPN) 2 years ago
06/03/2013 11:04 PM EDT
LeBron Out
LeBron is out of the game and leaves to a standing ovation. If he's out for good, he finishes with 38 points, 8 rebounds, 4 assists, 2 steals and a block.
06/03/2013 10:59 PM EDT
Paul George had a terrific postseason. Big things coming from this kid.

— chris palmer (@ESPNChrisPalmer) 4 years ago