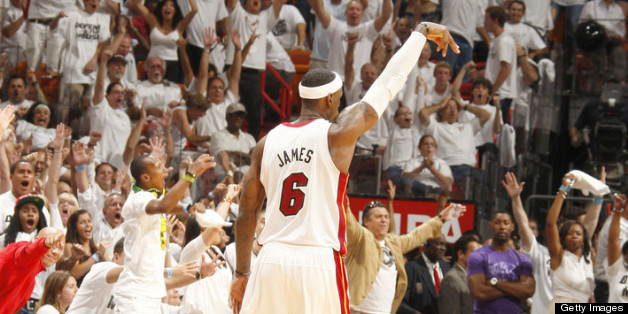 One of the colorways in the LeBron X+ line of sneakers is nicknamed "pressure." Perhaps it was designed with a must-win contest like Game 7 of the 2013 Eastern Conference Finals in mind.
Regardless, the pressure will be inescapable for James on Monday night in Miami. Will it weigh the four-time NBA MVP down? Or help him raise his game?
For just the 11th time in his 10-year career, James is facing a win-or-go-home game in the NBA Playoffs. His teams in Cleveland and Miami staved off elimination in four of those previous contests. They were sent into the offseason without any hardware after six of them. Three of those now-or-next-season situations came in a Game 7. James had won just one of those climatic games when he arrived at AmericanAirlines Arena for the must-win matchup with the Indiana Pacers on Monday.
Following his massive performance in Game 5 of the 2013 Eastern Conference Finals, James said his aggressive approach reminded him of his time in Cleveland. From his selection as the No. 1 overall pick in the 2003 NBA Draft up through his defection in "The Decision" in 2010, James was considered a one-man wrecking crew with the Cavaliers. To his frustration, he could not capture the Larry O'Brien Trophy with the supporting casts around him during those seasons playing in his home state. He then took his talents to Miami in order to play with fellow All-Stars Dwyane Wade and Chris Bosh. With both struggling during this series, James could find himself again feeling like he's back in Cleveland if the Pacers prevail.
Below is a brief look at each of James' 10 previous elimination game performances. Will James need a historic stat line to lift the Heat back into the NBA Finals?

BEFORE YOU GO
PHOTO GALLERY
LeBron James Facing Elimination