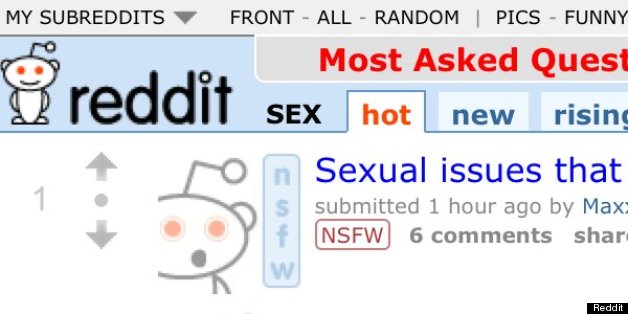 Can Reddit be good for your sex life?
You might not think so, if you've followed the story of the controversial and ultimately banned r/jailbait forum, or perused some of the less positive conversations about women and sex on men's rights activist pages.
But a female moderator for the website's popular sex forum, r/sex, says she feels that area of the male-dominated site can be a positive, very helpful place for women. In fact, it's a better experience for women than for men.
In an interview with Nerve's Kelly Bourdet, the moderator, known as Maaxters, remarked:
"Sort of conversely, the focus on r/sex is often women and how difficult [sex] is for women. I feel that sometimes a focus on men is actually lost. Yes, women have body image issues, issues with slut shaming, issues with orgasm; but men do have problems, too. Sex in our society is difficult to navigate and a lot of that is because of poor sex education and shame; it's not about who has it worse but making it better for everyone."
What do you think of Reddit's r/sex forum? Comment below, or tweet us @HuffPostWomen!
BEFORE YOU GO
PHOTO GALLERY
5 Health Benefits Of Orgasms